Ciao! Allora questo Natale? Avete festeggiato? Vi siete riposati?
Approfitto delle vacanze per inaugurare una nuova rubrica, consacrata alle interviste di marche giovani di cui mi piace lo stile. Per questa prima, ho contattato MaBe.

Hello! So, how did you spend your Christmas day? Did you have fun? Did you relax?
I take advantage of holidays to inaugurate a new category, devoted to interviews to young firms whose style I appreciate. For this first one, I contacted MaBe.


Chi c'è dietro MaBe?
MABE è un progetto che nasce dalla fusione di due fashion designers cresciute in contesti culturali differenti, MA è italiana e BE è spagnola. Ci siamo conosciute circa 5 anni fa e inaspettatamente col tempo abbiamo scoperto una grande affinità, sia nella vita privata che in quella professionale. Il nostro progetto nato nel 2005 attualmente è orientato verso due obiettivi lavorativi: MABE STUDIO come Ufficio stile free lance collabora con diverse aziende nazionali di prontomoda donna e come supporto di Fashion styling gestisce le produzioni fotografiche di moda, MABE marchio di abbigliamento ed accessori donna è invece la nostra fantasia creativa, un quadro bellissimo da disegnare ogni giorno per esprimere il nostro personale concetto di stile.
Avete 10 anni di vita professionale dietro di voi. Come mai avete deciso di lanciare MaBe?
Affinità, sintonia, empatia. Entrambe siamo da sempre appassionate cultrici di usi e costumi sia passati che attuali, strizzando sempre l'occhio a tutto ciò che è innovativo. Ci sono tanti modi per lavorare in questo campo ed ad alcuni, tipo noi, realizzare i desideri degli altri non basta. Dal lavoro che attualmente svolgiamo per altre aziende otteniamo grande soddisfazione, ma con MABE è qualcosa di più; è raccontare noi stesse. Amiamo esprimere in ogni outfits tutte le nostre passioni col fine di realizzare dei total look identificativi. Per noi i singoli capi sono come le note di uno spartito, diverse, fondamentali, caratterizzanti, ma tutte capaci di creare ogni volta nuove armonie. La forza sta infatti nell'insieme.
È difficile lavorare in due?
M m m … (riflessione), scherzi a parte siamo pronte a dire no, non è più difficile rispetto al lavorare da soli. Fondamentale è la distinzione dei compiti, in base alle proprie capacità ed attitudini. Fatto questo senza smanie di megalomania, lavorare in due può significare dover fare la metà delle cose e fare solo quelle in cui si è molto capaci purchè si ottenga sempre un risultato doppio. In entrata invece significa sempre avere il doppio delle idee, il doppio delle possibilità, il doppio del tempo. Nella realtà, quando si è anche amiche, significa anche il doppio delle risate!
*****
Who's there behind MABE?
MABE is a project born from the fusion of two fashion designers who grew up in different cultural contests, MA is Italian and BE is Spanish. We met each other 5 years ago and, unexpectedly, with time we discovered a great acquaintance, both in private and professional life. Our project, born in 2005, is now oriented towards two goals: MABE Studio which cooperates with Italian fashion firms as free lance style consulting and photographic production consulting, and MABE fashion firm, producing women clothes and accessories, which is our creative fantasy, a beautiful picture to paint each day in order to express our personal view of style.
You have 10 years of professional life behind you. Why did you decide to start MABE?
Similarity, syntony, empathy. We are both passionate of old and actual customs, with an eye-blik to everything which is innovative. There are many ways to work in this field and to some, like us, fulfilling other's desires is not enough. We work for other firms and we sureley get satisfaction from our jobs, but with MABE we can express ourselves. We love to put all of our passion in each outfit, in order to obtain peculiar total looks. To us, each cloth is like a note in a score, different, fundamental, but able to create new armonies at any time. Strength lies in the ensemble.
Is it hard to work in two?
Hmm …(reflecting), well, we can say no, it's not harder than working alone. It's fundamental to assign tasks efficiently, based on each own's capabilities and talents. This done, working in two may mean having half of the things to do, and only things you like, granted that the whole job is done. It means also having the double of ideas, possibilities, time. Since we are friends, it means laughing the double too!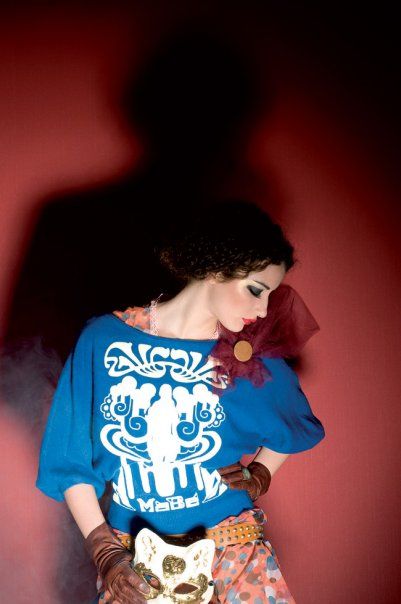 Quali sono le vostre influenze?
Dal passato apprendiamo l'importanza di un dettaglio, una linea, un'eleganza ed una raffinatezza che amava le donne. Dal presente cogliamo la capacità di osare, sperimentando nuove strade nell'abbinamento per risultati sempre diversi. Crediamo che la ricerca dell'originalità o unicità non debbano essere un'ossessione, ma una ricerca interiore prima di concetto, poi di mercato. Crediamo che la Moda sia lo strumento più idoneo a rendere visibile i tratti distintivi di ogni individuo solo dopo che siano stati definiti. Detestiamo la stravaganza ostentata, figlia del cattivo gusto, finalizzata a sembrare diversi affidando la propria distinzione agli oggetti che si indossano. Sappiamo apprezzare anche le cose semplici, cogliendone la complessità.
Una di voi è italiana, l'altra spagnola. Quali sono le marche italiane e spagnole che più comprate?
Compriamo cose diverse, ma più o meno dagli stessi marchi o catene, aldilà della nazionalità. Approfittiamo molto spesso dei viaggi di lavoro per fare shopping oltralpe a Londra, Amsterdam, Barcellona e Parigi. Parlando di prontomoda (in Italia) preferiamo visionare un Zara per la sua vasta scelta e per la possibilità di trovare capi basici piuttosto personalizzabili, comunque con molta cautela per evitare di sentirci in divisa con il resto della popolazione femminile. Interessante per gingilli e piccoli accessori a basso costo è un H&M, divertente, sempre fresco, affatto impegnativo. Visitiamo volentieri tutti i negozi di Roma in zona via dei serpenti, via del Boschetto, famosi per lo shopping alternativo e creativo, una parentesi di design nella storica città. Per le scarpe siamo molto più esigenti: Marc Jacobs, Paco Gil, Rebeca Sanver sono tra i nostri preferiti. Infine, ultimo proprio perché è il più importante, adoriamo fare shopping on line!
Fate solo pezzi unici. Perché una tale scelta?
Non è proprio una scelta. Far partire simili progetti richiede sforzi enormi, così ci siamo poste la domanda: meglio tante cose mal fatte o poche e di cui andare fiere?
Chiaramente ad oggi prediligiamo pochi o singoli pezzi di ciascuna creazione, a patto che risponda al quesito iniziale. Non temiamo affatto la produzione industriale, come spiegato sopra siamo convinte che l'originalità e lo stile siano il risultato di una ricerca interiore e di concetto, solo dopo di mercato. Ogni soggetto dovrebbe rendere unico quanto di unico indossa.
*****
What are your influences?
From the past, we learn the importance of a detail, a line, an elegance who loved women. From the present, we learn the will to dare, to experiment new ways in apparel in order to get always different results. We believe the search for originality and uniciy must not be an obsession, but an interior search, focused first on the concept, and only after on the market. We believe that Fashion is the most suitable tool to make each individual's distinct traits visible, only after having made these traits clear. We hate showed off extravagance, born from bad taste, made to look different just wearing some objects. We know how to appreciate simple things, understanding their complexity.
One of you is Italian and the other one is Spanish. Which are the Italian and Spanish firms you buy the most?
We take advantage of job trips to do some shopping outside Italy in London, Amsterdam, Barcelona and Paris. Talking about ready-tower fashion (in Italy), we like to visit Zara for its vast offer and for the possibility to buy basic items rather customisables, anyway we don't go there very ofter not to feel like all the rest of women. H&M is interesting for low budget accessories, funny, fresh. We visit many shops in Rome, in the neighbourhood of via dei Serpenti and via del Boschetto, known for underground and creative shopping, a design oasis in the historical city. We are much more exigent for what concerns shoes: Marc Jacobs, Paco Gil, Rebeca Sanver are our favourites. Last but not least, we love to shop on line!
You only produce inique pieces. Why?
It's not really a choice. Starting projects up requires tremendous efforts, so we asked ourselves: is it better to do many thigs poorely done, or fewer ones to be proud of?
We clearly prefer to make few items for each collection, given that it fulfills the initial question. We do not fear industrial production, as we explained before, we are covinced that originality and style are the result of an inner search on the idea first, and on the market after that. Each one of us should make what she wears unique.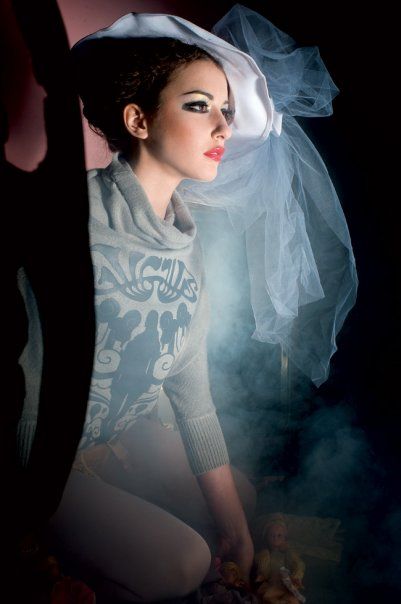 A chi sono rivolti i capi MaBe?
La nostra è un'interpretazione individuale rivolta alla ricerca costante di uno stile identificativo che ci somigli, uno stile che non teme il tempo, proprio come una donna completa non teme la vecchiaia.
Il marchio MABE vorrebbe porsi sopra le personalità distinte di chi lo sceglie come un "accento" caratterizzante e non invasivo. Esaltando una personale strada stilistica già intrapresa o invogliando ad un nuovo concetto di stile tutto da scoprire. Da seguire e non inseguire.
Come finanziare un tale progetto?
Lavorando il doppio. Lavoriamo moltissimo con l'obiettivo preciso di finanziare il nostro sogno, MABE. Per gestire tante attività contemporaneamente ci vogliono capacità e passione, ma averle non significa che sia facile. Per noi però ne vale la pena.
Quanto costano i vostri prodotti?
Poco. I costi delle piccole produzioni sono altissimi, in alcuni casi artigianali. Dovrebbe essere evidente che noi abbiamo scelto di "risparmiare" sul nostro guadagno pur di essere accessibili a tutte coloro che si sentiranno affini a MABE. Quando ci si presenta nella vita come nel mercato, noi all'arroganza preferiamo l'umiltà.
Dove sono fatti i vestiti MaBe?
Viviamo e lavoriamo a Roma, tutto quello che realizziamo è fatto da professionisti locali, serigrafie, maglifici, sarti. Lavorare con tutti loro è sempre fonte di grande spunto.
*****
To who are MABE clothes addressed?
Our individual interpretation is addressed to the constant search of a peculiar style that resembles us, a style not fearing time, just like a complete woman does not fear old age.
How do you finance your project?
We work a lot! We work with the precise goal to finance our dream, MABE. In order to manage so many activities altogether you need capabilities and passion, but having them does not mean it's easy. Anyway we think the project is worth our efforts.
How much do your products cost?
Not much. Costs of small productions are very high. It should be evident that we chose to reduce our margin in order to be accessible to everyone who feels an affinity with MABE. When we introduce ourselves in life like in the market, we prefer humbleness to arrogance.
Where are MABE clothes produced?
We live and work in Rome, everything we produce is made by local professionals. Working with them is always a source of inspiration.
È difficile produrre in Italia?
Difficile è sostenere con il proprio lavoro le realtà italiane del settore. Negli ultimi anni abbiamo visto chiudere tanti professionisti. Facendo piccole produzioni possiamo ancora collaborare con persone così, ma le nuove realtà industriali ci hanno quasi spazzato via dal nostro paese.
Perché la scelta di vendere su Internet?
Perché troviamo la vendita ON LINE molto innovativa e perché stranamente pur essendo tale soddisfa perfettamente l'esigenza di abbattere i costi superflui. In passato abbiamo avuto uno show room a Roma che fu motivo di grande gioia per il successo che ebbe nel quartiere. L'impegno fisico per le aperture però era molto e ci distraeva dal progetto che voleva essere più ampio. Così, fatti due conti, ci risultò evidente che al momento era superfluo.
Come sarà la collezione estiva?
L'ultima collezione "Delicatessen, retrò graphic knitwear" ci sta dando motivo di credere che l'idea sia piaciuta molto. Questo nuovo concetto di maglieria che grazie alla stampa serigrafica diventa più glamour merita la nostra attenzione anche per la stagione P/E 10. Prepareremo sicuramente nuove accattivanti grafiche per vestire confortevoli e raffinate maglie. Per gli accessori riconfermiamo la nostra Tie belt con nuove stampe e poi… tutto quello che ci verrà in mente!
Che consigli dare a una persona che vuole lanciare la propria marca?
Come marchio siamo ancora in corsa quindi non possiamo dare alcun consiglio, ma come professioniste del settore possiamo consigliare di fare certe scelte solo dopo aver raggiunto un'adeguata preparazione ed esperienza. Non c'è cosa più orrenda di una persona impreparata che fa finta di sapere. Nella Moda ci vuole molta tecnica oltre alla creatività e al talento.
Quali sono i vostri progetti?
Riuscire nel nostro.
*****
Is it hard to produce in Italy?
It is hard to support with our job Italian small enterprises of this sector. In last years we saw so many small firms closing. Doing small productions we can still coopeate with firms like that, but new industrial companies almost pushed ourselves out of our country.
Why did you choose to sell on the Internet?
Because we find online selling innovative and because it fulfills the need to cut un-necessary costs. In the past we had a showroom in Rome which was quite successful in the neighbourhood. Anyway, the effort to keep it open was huge and distracted us from our project, that was intended to be wider. So, we realised that for the moment it was superfluous.
How will summer collection be?
Tha last collection, "Delicatessen, retrò graphic knitwear", makes us think the public liked the idea. This new concept of knitwear becoming glamour thanks to silkscreen printing deserves our attention for spring/summer 2010 too. We'll set up new winsome graphics to wear comfortable and elegant sweaters. For what concerns accessories, we conferm our Tie belt with new prints and then... everything that will come up to our minds!
Do you have any advices for the ones willing to start their firm?
We are still at the beginning as a fashion firm, so we cannot give any advice, but only to take some decisions after ad adequate experience. There's more awful that someone who is not prepared pretending to know. In fashion you need a lot of technique besides creativity and talent.
What are your projects?
Being successful in our own.