Today Euxodie-drawn little Larmadio is the grand jury of Cannes 2010 Festival's looks. You've already seen Larmadio in Dior here, and today she wears her Raffaella Curiel dress. Really the one Evelina Levi Broglio wore at 1967's Scala's first evening!

So, who was the most elegant in Cannes this year?


*****
Oggi la mini Larmadio disegnata da Eudoxie è la gran giuria dei look del Festival di Cannes 2010! Avete già visto Larmadio in Dior qui, e oggi indossa il suo vestito Raffaella Curiel. Proprio quello che Evelina Levi Broglio indossava per la prima alla Scala nel 1967!
Allora, chi è stata la più elegante a Cannes quest'anno?
Dear friends, after this intense week spent scanning attentively each dress with great care, the time has come to assign the grand look Palme to...
the beautiful
Carey Mullingan
, always chic, never obvious, in Azzaro, Prada or RM by Roland Mournet.
*****
Cari amici, dopo questa settimana intensa trascorsa ad osservare attentamente ogni vestito con una grande cura, è arrivato il momento di assegnare la grande Palma del look a...
La stupenda

Carey Mullingan

, sempre chic, mai banale, in Azzaro, Prada o RM by Roland Mouret.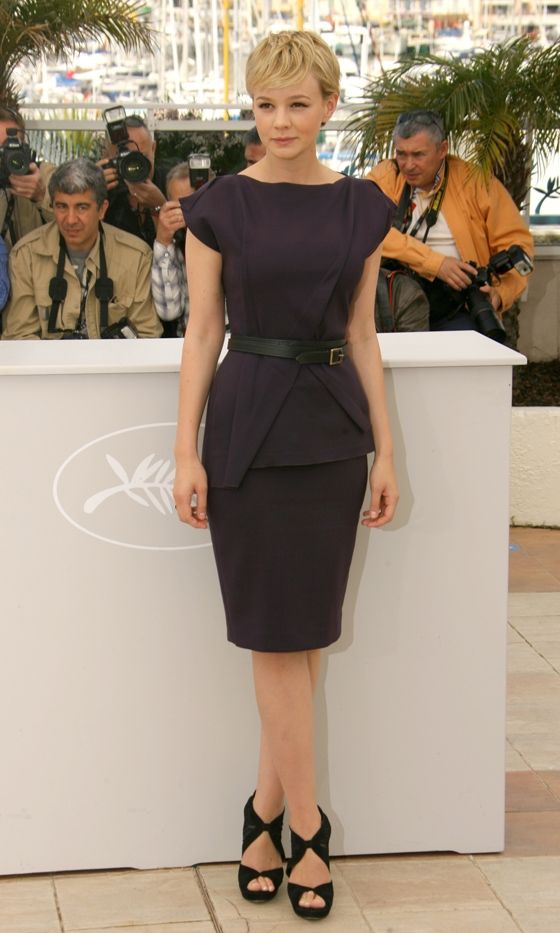 Larmadio by Eudoxie
Anyway Carey was not the only girl who knew how to dress, and here you are some looks which Larmadio likes:
Carey però non è stata la sola ragazza a sapersi vestire, ed ecco qualche look che piace a Larmadio: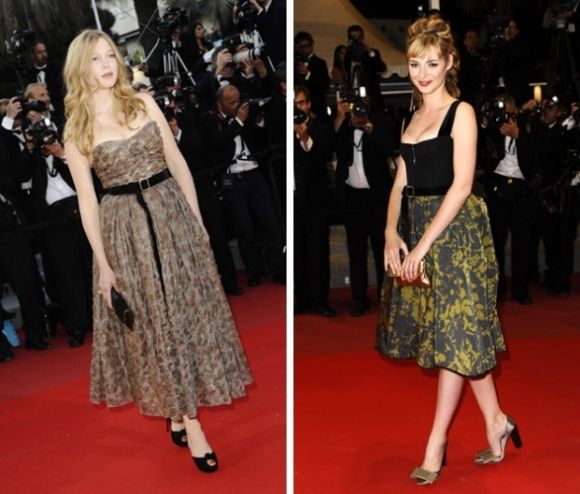 Léa Seydoux and Louise Bourgoin, both in Vuitton: marvellous.
Léa Seydoux e Louise Bourgoin, entrambe in Vuitton: meravigliose.
Cate Blanchett in Alexander McQueen, even if
Eve G
says it looks like "I normally dress so well that this time they had to convince me to wear this Baron-of-Bleinsteinchteinzein dress".
Cate Blanchett in Alexander McQueen, anche se Eve G dice che fa "la più di solito sono talmente tanto vestita bene che hanno dovuto costringermi a portare questo vestito del Barone di Bleinsteinchteinzein"
Charlotte Gainsbourg in a small black, but not trite, dress. Has this girl ever done a style mistake? Pride of my country!
Charlotte Gainsbourg in vestitino nero ma per niente banale. Ma questa ragazza non ha mai fatto un errore di stile? Orgoglio del mio paese!
Larmadio by Eudoxie
Eve G
does this better than me, but I like anyway to critic the dresses showed on the red carpet. There is the monstrous (my preferred types), the sugary one, and the trite. This year there are also bride dresses, seen many times at fashion shows, but that leave me puzzled: a bride dress is nice (well, not always), but ... on a bride!
Given the number of awful looks I've seen, let us concentrate on the ones who mad me think "what an idea...".
*****
Eve G lo fa meglio di me, ma mi piace anche criticare gli abiti che sfilano sul tappetto rosso. Ci sono quelli mostruosi (i miei preferiti), quelli sdolcinati, e quelli banali. Quest'anno, ci sono anche i vestiti da sposa, visti parecchio sulle passarelle, ma che mi lasciano un po' perplessa: è bello un vestito da sposa (insomma, non sempre), ma... su una sposa!
Dato il numero di look brutti che ho visto, concentriamoci su quelli che mi hanno fatto dire "ma che idea..."
Tournée
team seems really nice, but elegance will be their quality another time!
Il team di

Tournée

sembra troppo simpatico, ma per quanto riguarda l'eleganza sarà per un'altra volta!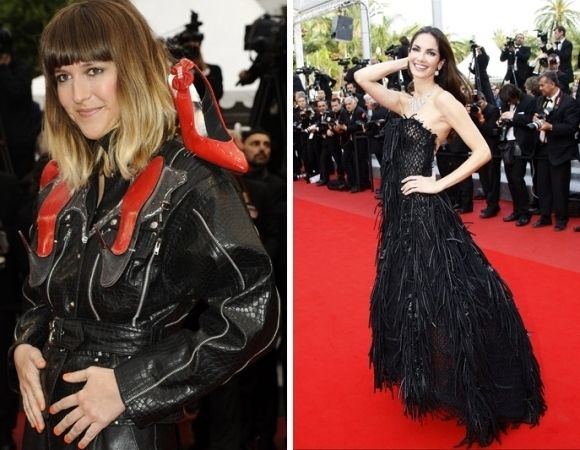 Daphné Bürki, a French tv showgirl, she adores doing style experiments. And she finds herself with shoes on her shoulders at Cannes! If I were in her shoes, I'd be ashamed: I imagine people saying me: hey Miss! You forgot your shoes on your shoulders!
And model Eugenia Silvia is on a depilation strike. Not a good idea.
Daphné Bürki, una presentatrice tv francese adora fare degli esperimenti stilistici. E si ritrova con delle scarpe sulle spalle a Cannes! Al posto suo, mi vergognerei un sacco: immagino la gente che mi dice: hey signorina! Ha dimenticato le sue scarpe sulle spalle!
E la modella Eugenia Silvia fa lo sciopero della depilazione. Cattiva idea.
Besides Elizabeth Banks, photographs are so glad to see such a gnagna dress.
What about Evangeline Lilly? What absurd colours!
Dietro a Elizabeth Banks, i fotografi sono troppo contenti di vedere un vestito così gnagna.
E Evangeline Lilly? Che colori assurdi!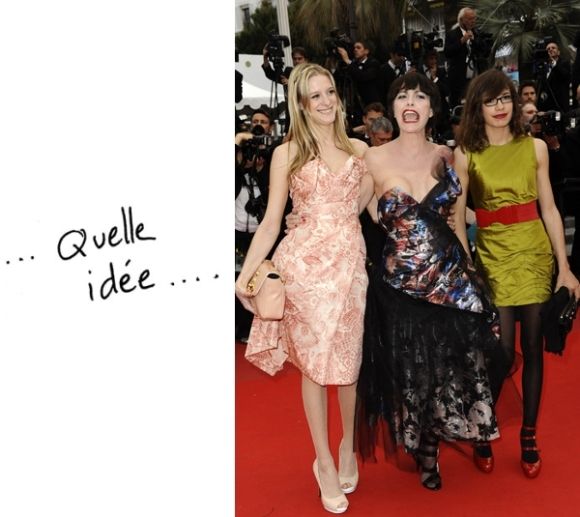 But the Palme d'or for the most awful look goes to Lio! Like anytime,
Eudoxie
says.
Ma la palma del look più brutto va asssegnata a Lio! Come ogni volta dice Eudoxie.