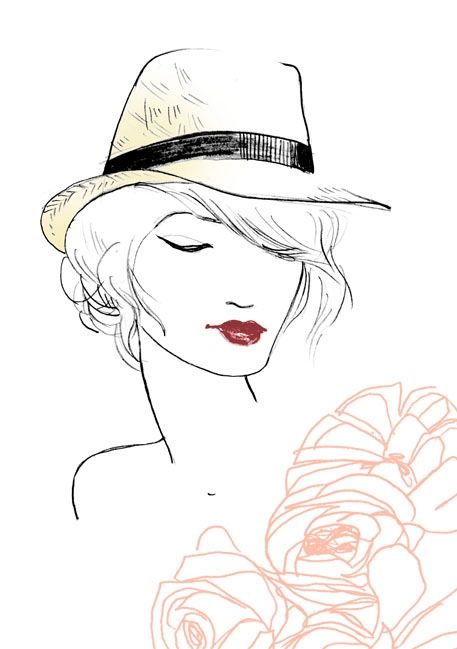 Illustration by
Eudoxie
One of these days I should show you all my hats. They are one on the other on a small bookshelf where I keep all the French literature and Italian grammar, and me, I'm sitting in front of my PC and I look at them from time to time, because they make me feel good and they are all in a mess. All of them? Well, one of them is missing: the ivory panama hat I bought... in a motorway café (in summer, when you badly need a hat, you badly need a hat). Where can it be? I looked for it everywhere, I didn't find it anywhere.
On a website about panama hats and hats in general (which sells night bonnets too! I forgot about their existence!), I read "the tissage of a good panama hat takes from three to six months" (well, the one from the motorway café must have been a fake).
Since a good panama hat not made in motorway is a must for every real hat-girl, I decided it will be my next buy. I imagine myself, with make-up, elegant with my panama hat, like on
Eudoxie
's illustration: isn't this girl adorable? Eudoxie and I agree: the panama hat is
illustrationgenic
.
Panama, here I am (again)!
Merci
Eudoxie
!
*****
Uno di questi giorni, dovrei mostrarvi tutti i miei cappelli. Sono gli uni sugli altri su una piccola libreria dove si trova della letteratura francese e della grammatica italiana, ed io, seduta davanti al computer, getto loro un'occhiata ogni tanto, perché mi fanno prendere bene e sono tutti accatastati proprio a casaccio. Tutti? No: uno di loro manca all'appello: il panama avorio comprato... in un autogrill (in estate quando c'è urgenza di cappello, c'è urgenza di cappello). Ma dove sarà finito? Cercato dappertutto, trovato in nessuna parte.
Su un sito sui panama e i cappelli in generale (che vende anche le cuffie da notte! Mi ero dimenticata della loro esistenza!), ho letto "il tissage di un buon panama prende tre a sei mesi" (beh, quello dell'autogrill sarà stato un falso).
Siccome un buon panama non made in autogrill è indispensabile ad ogni ragazza da cappello che si rispetta, ho deciso che sarà il mio prossimo acquisto. Mi vedo bene, truccata ed elegante con il mio panama, come sull'illustrazione di Eudoxie: questa ragazza non è irresistibile? Eudoxie ed io siamo d'accordo: il panama è

illustratogenico

.
Panama, (ri-)eccomi!
Merci Eudoxie!
Up on the white veranda
She wears a necktie and a Panama hat.
Her passport shows a face
From another time and place
She looks nothin' like that.
And all the remnants of her recent past
Are scattered in the wild wind.
She walks across the marble floor
Where a voice from the gambling room is callin' her to come on in.
She smiles, walks the other way
As the last ship sails and the moon fades away
From Black Diamond Bay.
Merci Bob Dylan!