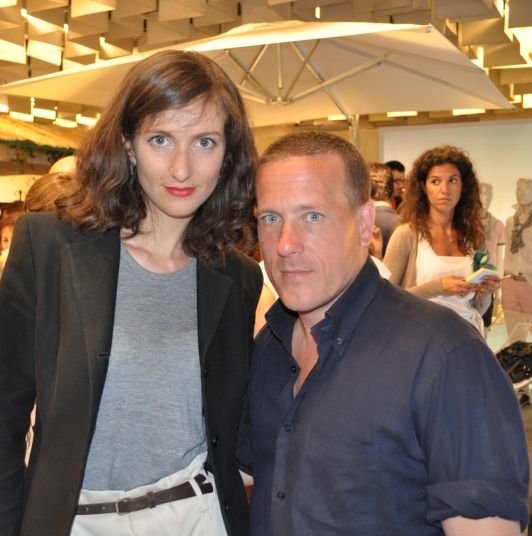 "Let's see if you can make The Sartorialist speak French" Mr. Del Delitto said when he knew I was going to the meeting of bloggers and medias organized by Harmont&Blaine last Thursday during Pitti. "I say he cannot speak a word" he added.
- But he has a French girlfriend from three years, I answered!
- Pff, I bet he'll be able to say je pa'le un peu f'ançais and that's all! It's Garance who will speak English.

Obvioulsy my friends have bet too that the patron saint of fashion bloggers (that's how Isa calls him) cannot speak French, and I, alone against everybody, I decided to save his honour.

So?

So Scott can say Je pa'le un peu f'ançais g'ace à Ga'ance with a good American accent and an amised smile. Alright, a point for Mr. Del delitto and eveybody, and zero points for me. I tried to look piercingly at his girlfriend to let her know she was an awful teacher, but she, beautiful with her beige shorts and her male shirt, she was busier kissing the non-french-speaking-patron-saint than be ashamed. Alright!


*****
"Vediamo se riesci a fare parlare francese The Sartorialist" mi ha detto il signore del Delitto quando ha saputo che andavo all'incontro fra blogger e media organizzato da Harmont&Blaine giovedì scorso durante il Pitti. "Secondo me, non sa dire una parola" ha aggiunto.
- Ma ha la ragazza francese da tre anni, ho risposto!
- Pfff saprà dire je pa'le un peu f'ançais e basta! Sarà Garance a parlare inglese.
Ovviamente le amiche hanno scomesso anche loro che il santo padrone dei fashion blogger (come lo chiama Isa) non parla francese, ed io, sola contro tutti, ho deciso di salvare il suo onore.
E allora?
E allora Scott sa dire Je pa'le un peu f'ançais g'ace à Ga'ance con un buon accento americano e un sorriso divertito. Vabbé, un punto per il signore del delitto e tutti quanti, e zero per me. Ho provato a guardare male la sua ragazza per farle capire che era una pessima insegnante, ma lei, tutta bella con i suoi short beige e la sua camicia maschile, era più occupata a fare dei baci al santo-non-francofono che a vergognarsi. Vabbé!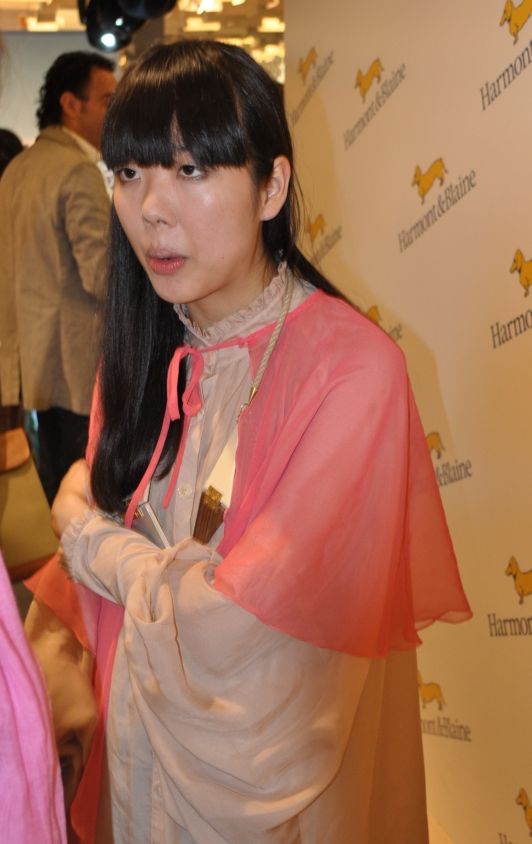 Anyway, this meeting had been an opportunity to meet some bloggers I follow from many years (
Susie Bubble
! The world's most chatting person who doesn't stop talking even when they take her on pictures!), a lot of journalists (some of them know everything about fashion blogs, other ones ask a lot of questions, but all of them are really curious), and to discover Pitti's athmosphere, so peculiar (a world where all the men are well dressed...I easily got used to it!)
Comunque questo incontro è stato un occasione per conoscere dei blogger che seguo a volte da anni (Susie Bubble! La persona più chiacchierona del mondo, che non smette di parlare anche quando la fotografano!), un sacco di giornalisti (certi sanno tutto dei blog di moda, altri fanno un sacco di domande, ma tutti sono molto curiosi), e scoprire l'atmosfera del Pitti, così particolare (un mondo in cui tutti gli uomini sono vestiti bene... mi ci sono abituata molto in fretta!)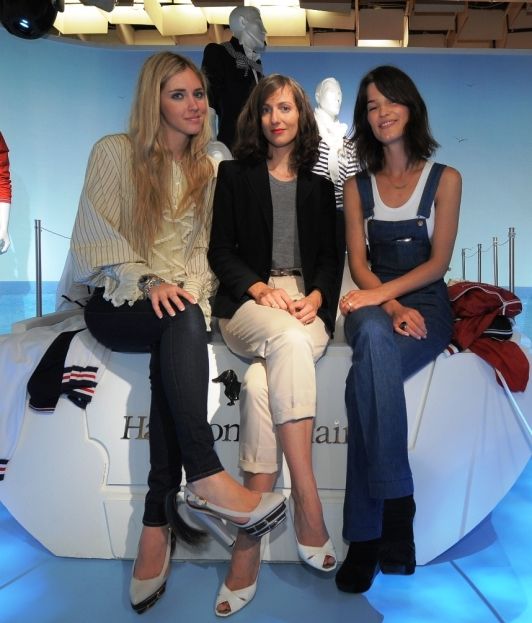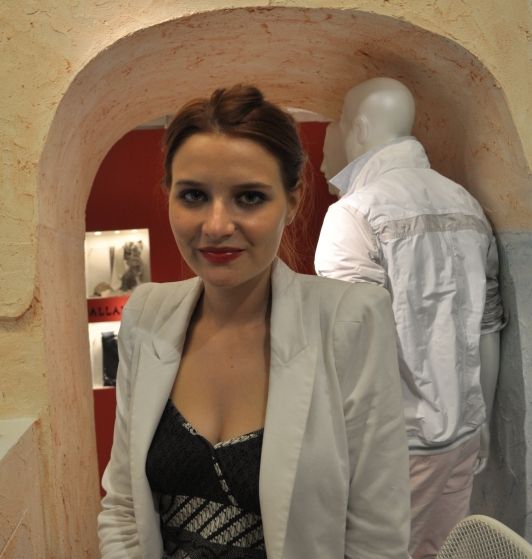 There were:
Erano presenti:
Scott Schuman (
thesartorialist
)
Susanna Lau (
stylebubble
)
Chiara Ferragni (
theblondesalad
)
Hanneli Mustaparta (
Hanneli
)
Veronica Ferraro (
thefashionfruit
)
Steve Salter (
stylesalvage
)
Jessica Weiss (
lesmads
)
ed io!
L'armadio del delitto