Did you notice?

I look combed (it doesn't happen every day), and I've got a big necklace (it doesn't happen every day even).

Combed hair, it's chance. The necklace, it's a long story.

Once upon a time a girl from Bologna as old as me, who was very beautiful (it's because she was a princess), who was a jewellery designer (nowadays princesses do jobs which sound good) and who read my blog (well, obviously princesses have good taste). Her name was Giulia Boccafogli.

She called her activity "Giullery designer", and she did it with passion. One day she wrote me, and I appreciated her spontaneity and we became friends. And she created a necklace for me.

What a kind attention! What an adorable jewellery! Such a big and light necklace! Only a princess's hands could produce this marvel! It's perfect to wear with my Paul&Joe Sister skirt I've got from some years and a simple white shirt. In fact, Giulia imagined me wearing her necklace in a romantic outfit.


*****
Avete notato?
Sembro pettinata (non capita tutti i giorni), ed ho una grande collana (nemmeno questo non capita tutti i giorni).
I capelli è un caso, e la collana è tutta una storia:
C'era una volta una ragazza bolognese della mia età che era molto bella (è perché era una principessa), che era jewellery designer (le principesse di oggi fanno dei mestieri che suonano bene) e che leggeva il mio blog (pfff ovviamente è una principessa, ha buon gusto). Si chiamava Giulia Boccafogli.
Chiamava la sua attività "giulielleria", e si ci consacrava con passione. Un giorno ha avuto l'idea di scrivermi, ho apprezzato la sua spontaneità e siamo diventate amiche. E ha creato una collana per me.
Che delicata attenzione! Che gioiello adorabile! Una collana così grande e così leggera! Solo delle mani di principessa potevano realizzare questa meraviglia! Perfetta da portare con la mia gonna Paul&Joe Sister che ho da qualche anno ed una semplice maglietta bianca. D'altronde Giulia mi immaginava portare la sua creazione con una mise romantica.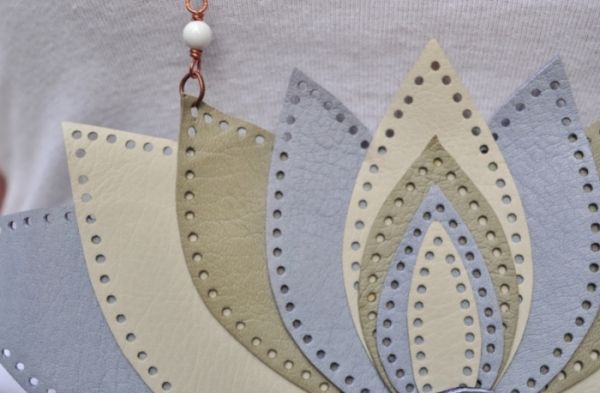 The good new? I'll meet Giulia personally at Fashion Camp, in a few days.
The other good new? The
giulielli
are
here
and
here
!
*****
La buona notizia? Conoscerò finalmente Giulia "per vero" al Fashion Camp, fra pochi giorni.
L'altra buona notizia? I

giulielli

sono qui e qui!
Necklace - Collana Giulia Boccafogli
T-shirt American Apparel
Skirt - Gonna Paul&Joe Sister
Bag - Borsa Gérard Darel
Shoes - Scarpe Chie Mihara