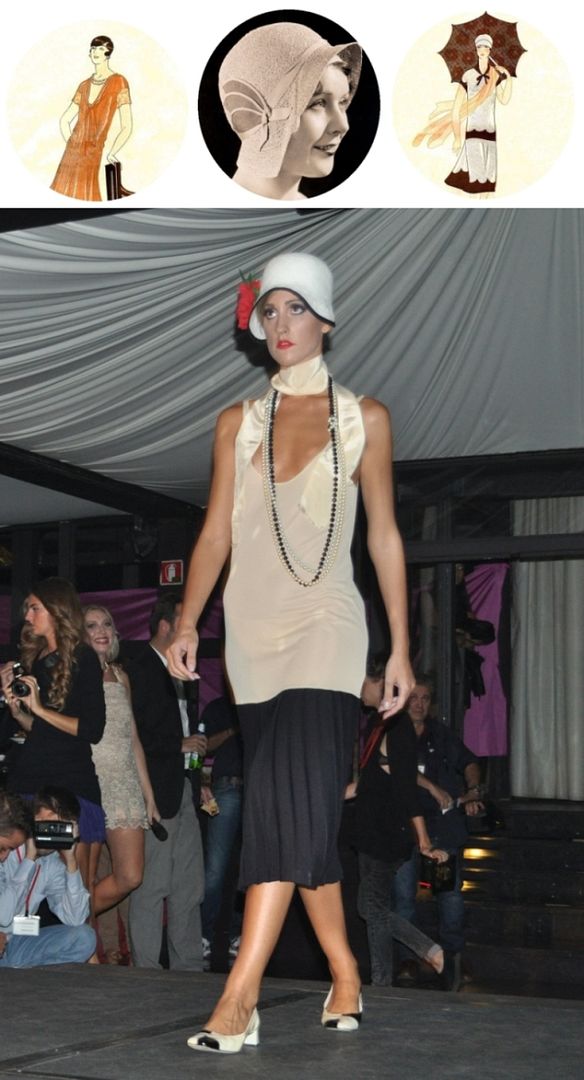 Ah! Vintage! I like it so much I called my Facebook profile L'armadio del delitto modavintage. Well, no, in fact I called it like that because "L'armadio del delitto" (that means literally "The closet of crime", although there's a pun in Italian) frightens strangers: they believe I'm a murderer looking for victims on FB before hiding their corpse in a closet.

Fine.

What is exactly vintage, miss Nathalie (who asked it to me this summer)? It's a more than 20 years old item: it had the time to be out of fashion at first, then to fall into oblivion and, being forgotten, when it's found again it seems almost new, with a retro look that inspires us sympathy. Besides, to be called vintage, an item must either present an hystorical interest / be of excellent quality / of a great brand / of a tailor's workshop / have a typical taste of that time. Otherwise, it's just second hand.

So, on thursday I've been at the first vintage fashion show of my life, true vintage since clothes came from the famous A.N.G.E.L.O. shop, that sells unfindable collectibles. The show was organized for the launch of fashionblabla site, on which you can watch a video of the night realized by my friends Sara and Didier (I'm in there too, with a 50's skirt).

Charmant! It was charmant! Cheerful, with non-professional models who had a taste for show and modeled with a nice smile. The public was fascinated, particularly me! From the thirties on, some looks from different epochs, and here you are my favourites. I enjoyed myself doing some collages in order to compare the show with vintage photos: interesting, isn't it?


*****

Ah! Il vintage! Mi piace così tanto che sul mio profilo Facebook, mi chiamo L'armadio del delitto modavintage. No, in realtà mi chiamo così perché "L'armadio del delitto" fa paura alle sconosciute: credono che sia un assassino che trova le sue vittime su FB prima di nascondere il loro cadavere in un'armadio.
Bene.
Che cos'è di preciso il vintage signorina Nathalie (che me lo ha chiesto quest'estate)? E' un capo di più di vent'anni: ha avuto il tempo prima di diventare smodato, poi di cadere nell'oblio, ed essendo stato dimenticato, quando viene ritrovato sembra quasi nuovo, con un aria un po' retro che fa simpatia. Inoltre per essere chiamato vintage, un capo deve presentare un interesse storico / essere di ottima qualità / di grande marca / di sartoria / di un savoir faire caratteristico dell'epoca. Se no, è solo second hand.
E quindi giovedì sono stata alla prima sfilata di vintage in vità mia, di vero vintage serio dato che i capi venivano del famoso negozio A.N.G.E.L.O. che ha dei pezzi di collezione introvabili. La sfilata era organizzata in occasione del lancio del sito fashionblabla sul quale potete vedere un video della serata fatto dai miei amici Sara e Didier (ci sono pure io dentro, con una gonna anni 50).
Charmant

! Era

charmant

! Allegro, bello, con le modelle non professioniste che avevano il gusto dello spettacolo e sfilavano con un bel sorriso. Il pubblico era conquistato, soprattutto io! Dagli anni 30 in poi, dei look di diverse epoche, di cui ecco i miei preferiti. Mi sono divertita a fare qualche collage per paragonare la sfilata con delle foto d'epoca: interessante, no?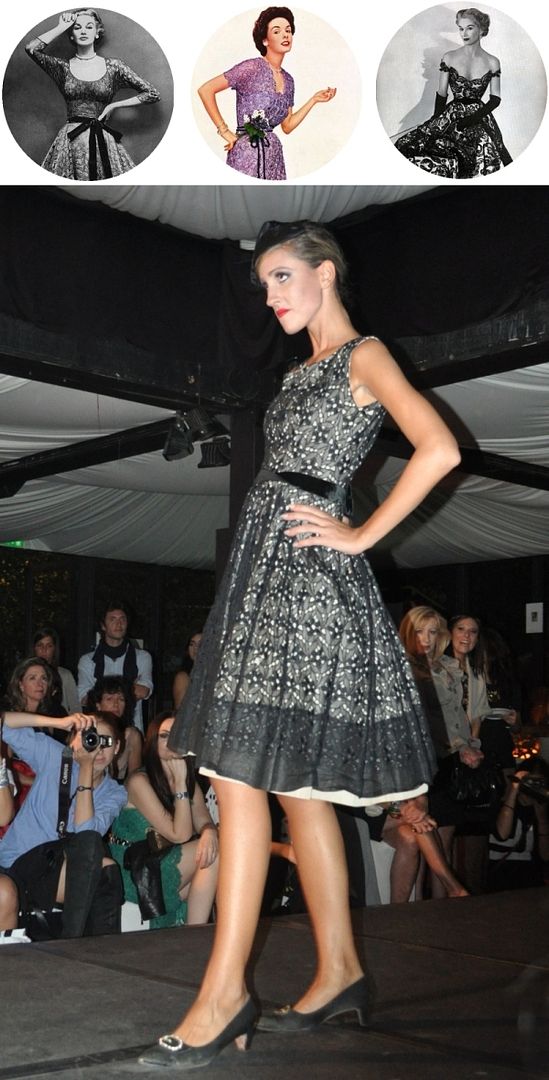 Posted by
L'armadio del delitto