You don't need to know me from a long time in order to know how much I like flea markets, where I always find a lot of things that lived another life before being forgotten by their owners... and wait on the market stands the prince charming who'll make them live a new life. There's this children books collection that probably has not been opened in the last 30 years, very Chanel ladies jackets that talk about a passed by and elegant Turin, cinema chairs in a row that would have a lot of stories to tell! I cross by a couple of students who carry an old trunk just bought: here it goes for new adventures!

Franca and Verdiana are mother and son, and they collect objects and materials they find during their mornings spent in Tuscany's flea markets, where they live. They like to call their discoveries "forgotten objets" or "lost objects", and they re-use them giving them a new form, keeping the warmth of old things. Textures, wool, laces, scarves, hats and dresses, small furniture too, they create handmade objects from vintage materials at 99%: a system both poetic and ecological! Besides Etsy, it's possibile to find Oggetti smarriti in Florence, via Verdi 40r in Workshop/Amoromeo shop.


*****
Non c'è bisogno di conoscermi da molto tempo per sapere quanto mi piacciono i mercati delle pulci, dove trovo sempre un sacco di cose che hanno vissuto un'altra vita prima di essere "dimenticate" dai loro proprietari... e aspettano sulle bancarelle il principe azzurro che farò vivere loro una nuova vita. C'è questa collezione di libri per bambini che probabilmente non è stata aperta da 30 anni, delle giacche da signore molto Chanel che parlano di una Torino elegante e passata, delle sedie da cinema in fila che ne avrebbero di storie da raccontare! Incrocio una coppia di studenti che trasportano un baule antico appena comprato: eccolo partito per nuove avventure!
Franca e Verdiana sono madre e figlia, e collezionano oggetti e materiali che trovano durante le loro mattinate passate nei mercatini toscani, dove vivono loro. Gli piace chiamare le loro trovate "oggetti dimenticati", o "smarriti", e li riutilizzano per dare loro una nuova forma, mantenendo però il calore delle "vecchie cose". Tessuti, lana, pizzo, bottoni, camei ecc vengono trasformati dalle loro mani di fate in collane, fermacapelli, sciarpe, cappelli, abiti e anche piccoli mobili, insomma, realizzano degli oggetti handmade composti al 99% da materiali vintage: un sistema insieme poetico ed ecologico! Oltre Etsy, è possibile trovare Oggetti smarriti a Firenze, in Via Verdi 40r nel negozio Workshop/Amoromeo.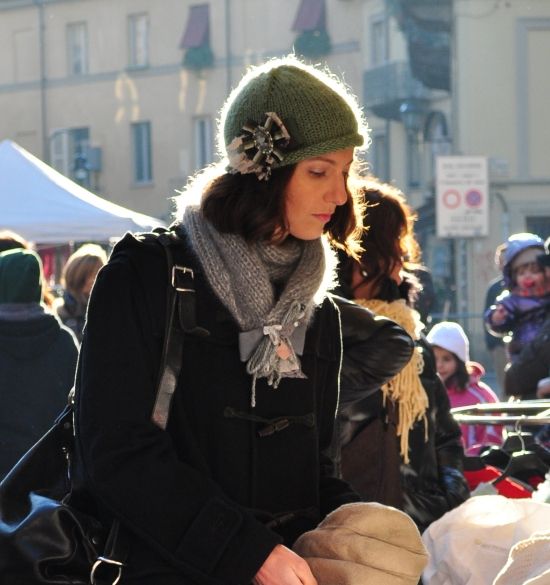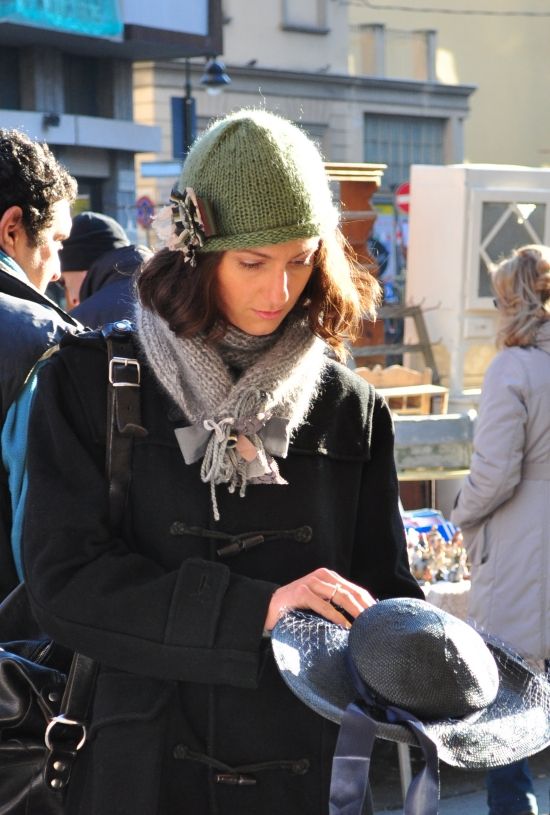 Here I am at Turin's Gran Balon with my duffle coat my parents gifted me in the 90s for my beginning of University, and my scarf and hat
Oggetti Smarriti
with soft wool, and with feminine details who characterize Franca and Verdiana's work. Yesterday it wasn't to cold, but I'm super chilly!
Since it's almost Christmas, and since you never receive enough presents, I'm organizing two giveaways, one today and another one next week! Here you are the first one, with a hat very similar to mine in a pink version and a big scarf that will make any coat look happier, gifted by
Oggetti Smarriti
made in Tuscany
.
*****
Eccomi al Gran Balon di Torino con il mio duffle coat regalato dai miei alla fine degli anni 90 per il mio ingresso all'università, e la mia sciarpa e il mio berretto Oggetti Smarriti dalla lana dolce, dolcissima e i dettagli femminili che caratterizzano il lavoro di Franca e Verdiana. Ieri non faceva così freddo, ma io sono super freddolosa!