Movie scenes with bad-but-beautiful or fashion show?
Italy or China?
Its the Ermenegildo Zegna's Fall-winter 2011 collection, dedicated to China, dramatic.

Before the show, as a diligent blogger, I read the explanations announcing "a multi-sensory "LIVE-D" experience that suspends the spectator between cinema and live performance", explaining that "backstage models are filmed in the 'Green Room' using cutting edge film technology. Front of house these images are projected on a 11m x 5m giant screen in real time against a 360° filmed background, coinciding with the models arrival on the runway".

Ah, I thought, another invention from some fashion guy willing to make people talk about him. But, wow, the models looked like they were coming out of the screen, their 40s' traveller allure, their hair (aaah the part on the side, it changes a man), the chinese lanscapes, the athmosphere was cinematographic and I was enchanted.


*****

Riprese di un film con dei cattivi-ma-belli o sfilata?
Italia o Cina?
Collezione autunno-inverno 2011 di Ermenegildo Zegna, dedicata alla Cina, spettacolare.
Prima della sfilata, da brava blogger diligente, ho letto le spiegazioni che annunciavano "un'esperienza multisensoriale che sospende lo spettatore fra cinema e spettacolo live", spiegando che "dietro le quinte i modelli sfilano in un set ad hoc, la 'Green Room', che permette di inserirli in tempo reale in uno sfondo filmato a 360°. L'immagine così creata viene immediatamente riproiettata in platea su uno schermo gigante nel momento stesso in cui i modelli escono in passerella".
Ah! ho pensato, ancora un'invenzione di questa gente della moda per fare parlare di sé! E invece, wow! I modelli sembrati usciti dallo schermo, la loro allure da viaggiatore anni 40, la loro pettinatura (aaah la riga sul lato: vi cambia un uomo), i paesaggi cinesi, l'atmosfera era cinematografica e io ero incantata.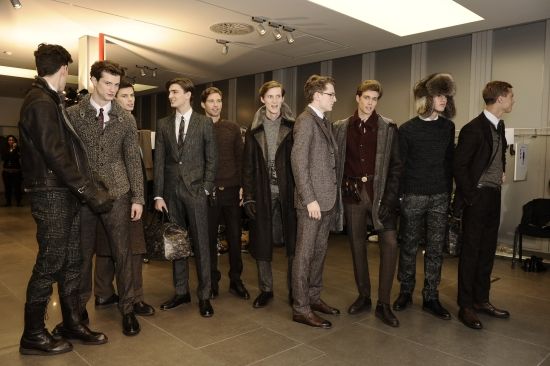 This photo looks like it has been taken in a move set in the fourties, with travels, pathetic happenings and adventures?
But let's see some detail of the collection:
Questa foto non sembra presa da un film ambiantato negli anni 40, con tanto di viaggi, avvenimenti patetici e avventure?
Ma vediamo qualche dettaglio della collezione: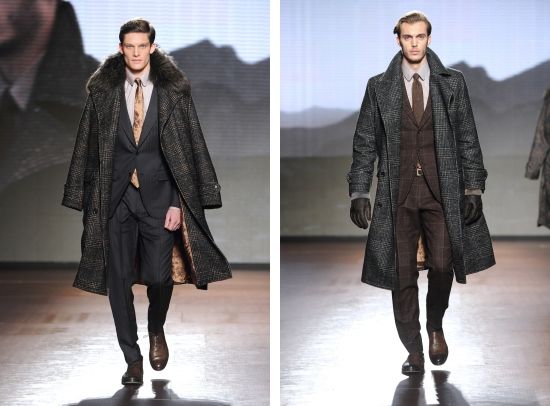 Rigorous cuts, neutral colours, the true men's elegance.
Tagli rigorosi, colori neutri, la vera eleganza maschile.
Leather, just some touch like on the right hand side picture.
The left look seems super classic, but tie + tweed trousers + high shoes above the trousers is not for everybody!
Pelle, anche solo qualche tocco come sulla foto di destra.
Il look di sinistra invece sembra super classico, ma cravatta + pantaloni di tweed + scarpe alte sopra i pantaloni non sono da tutti!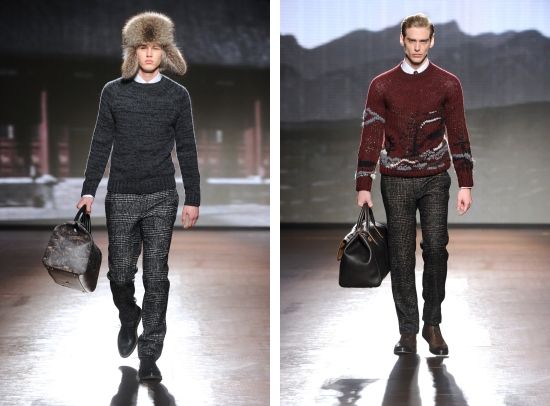 Big wool pullovers and winter looks.
Grandi maglioni e look invernali.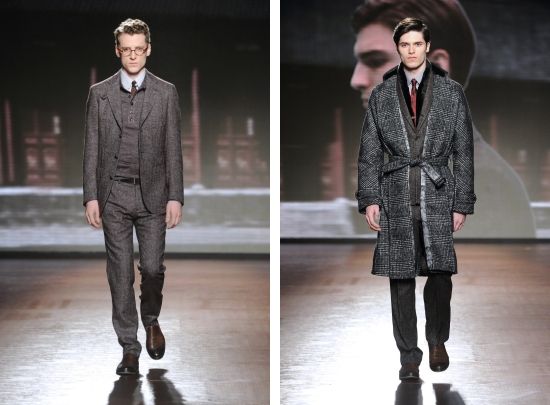 The guy on the left would be perfect in the role of some cursed poet with his grey dress and his small round glasses (I know, the cursed poets do not wear grey dresses so rigorous, but this guy immediately made me think of Fay Grim's brother).
On the right, a nice dressing gown that would be nice in some move too (think of a man in his study, with a big bookcase, sigars, and a lit fireplace: he just need this gown, doesn't he?)
Il ragazzo a sinistra sarebbe perfetto nel ruolo di qualche poeta maledetto con il suo completo grigio e i suoi piccoli occhiali tondi (lo so, i poeti maledetti non indossano vestiti così rigorosi, ma questo ragazzo mi ha subito riccordato il fratello poeta di Fay Grim).
A destra invece una bella vestaglia che andrebbe anch'essa molto bene in qualche film (immaginate un signore nel suo studio con una grande libreria, dei sigari e un camino acceso: ci vuole questa vestaglia, no?)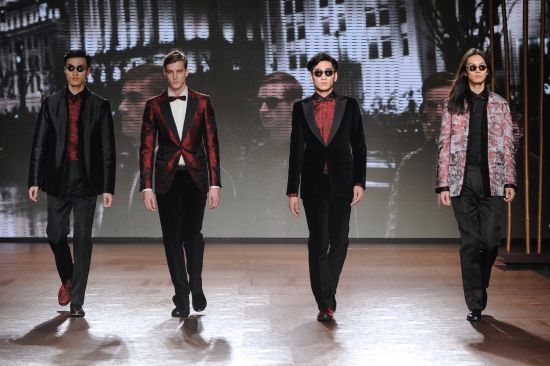 Oriental version with shirt red silk.
Versione orientale con seta lucida rosso lacca.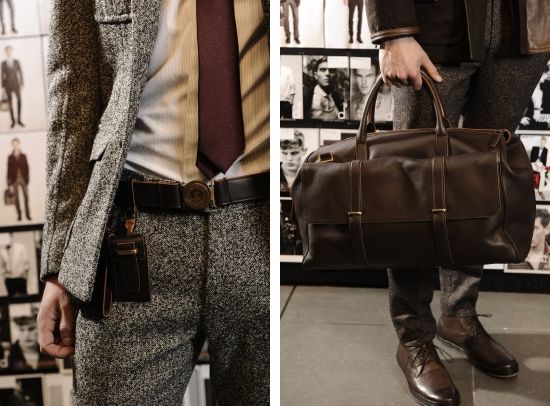 On the left hand side, leather holder for globetrotters.
On the right hand side, the epic travellers' bag: last june I noticed at Pitti that most of the men actually travelled with this bag as suitcase. After that, I bought one too – vintage – and I was using it last saturday at the show (hehe).
A sinistra, portaoggetti di pelle per giramondi.
A destra, la mitica borsa da viaggiatore: lo scorso giugno, avevo notato andando al Pitti che la maggior parte degli uomini viaggiavano con una tale borsa come valigia. Dopo di questo, ne ho comprata una anch'io – vintage – e appunto ce l'avevo sabato alla sfilata (hehe).
How can you have a nice part on the side? You just put a clip on (on the left).
Ma come si fa ad avere una bella riga sul lato? Si mette un fermacapelli (a sinistra).
Johannes Huebl, Olivia Palermo and Anna dello Russo, here is the VIPs photo!
Johannes Huebl, Olivia Palermo e Anna dello Russo, ecco la foto people!
The green room, where we've been after the show to talk with the director James Lima (who is known for having been Avatar's visual consultant), who worked on this project. We looked at ourseleves walkin on the Chinese Wall (a small thing amuses)...
La green room, dove siamo stati dopo la sfilata per parlare con il regista James Lima (noto per essere stato visual consultant per Avatar), che ha lavorato su questo progetto. Ci siamo visti camminare sulla muraglia cinese (un niente mi diverte)...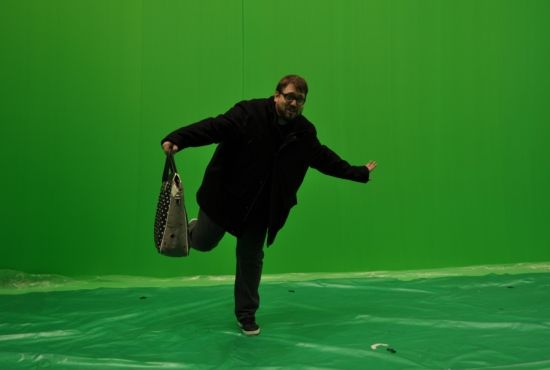 ... but I'm not the only one to amuse herself: here is serious Stefano Guerrini playing the fool!
... ma non sono stata la sola a divertirmi: ecco a voi il serissimo
Stefano Guerrini
che che fa lo sciocco!