What a pity you can't participate to your own giveaways, because this clutch is telling me "adopt me! adopt me!" It has got all the qualities:

- it is a clutch (in 2011 being a clutch is a quality)
- it's a unique piece
- I adore its colour
- the brooch is made out of a recycled beer bottle top, browned and forged with hammer and fireplace's embers, an example of altered art Poppy explained
- then this bag is hand crafted by Poppy who listens to metal music when she saws. This is Poppy's mistery.

Ah, the blogger's hard life, she who desiders objects she cannot have.


*****

Peccato che non si possa partecipare ai propri giveaway, perché questa clutch mi sta dicendo "adottami! Adottami!" Ha tutte le qualità:
- è una clutch (nel 2011 essere una clutch è una qualità)
- è fatta di tappezzeria di una qualità ottima recuperata da un tappezziere
- è un pezzo unico
- adoro il colore
- la spilla è fatta con un tappo di birra riciclato, brunito e forgiato con il martello e la brace del caminetto, un esempio di altered art mi ha spiegato
Poppy
- e poi è fatta a mano da Poppy, che ascolta metal quando cuce. Non capisco come si può cucire tali borsette carine ascoltando metal. Questo è il mistero Poppy.
Ah! La dura vita della povera blogger che desidera oggetti che non può avere!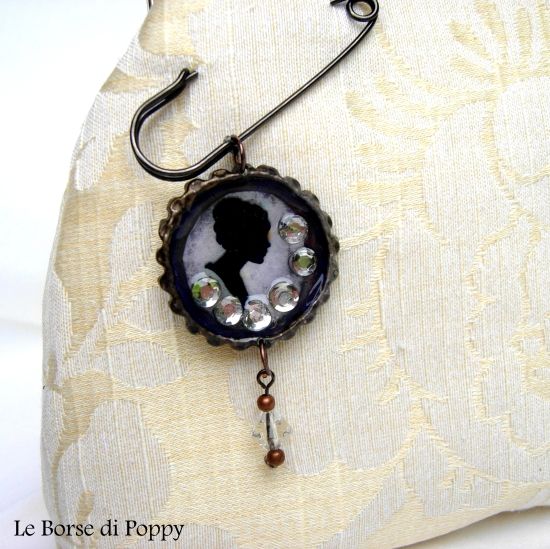 To participate to the giveaway, you just need to be Poppy's follower
on her blog
, or to click "I like"
on Facebook group "Le Borse di Poppy"
. Then you need to appreciate her humor, she told me (go read her blog and discover what it means: it's terrible!).
If you want to leave a second or also a third or fourth comment, you can put a link to the giveaway on Facebook, twitter or your own blog.
The giveaway is open until next sunday at 22:00!
*****

Per partecipare al giveaway, basta essere follower di Poppy
sul suo blog
oppure cliccare "mi piace"
sul gruppo Facebook Le Borse di Poppy
. E poi bisogna apprezzare il suo umorismo mi ha detto lei (andate a leggere
il suo blog
e capirete cosa significa! E' terribile!)
Chi vuole la possibilità di lasciare un secondo, un terzo o anche un quarto commento può mettere in link il giveaway su Facebook, twitter o sul proprio blog.
Il concorso è aperto fino alla prossima domenica alle 22!