Fashion has its calendar, and after the period of the fashion weeks, it seems March is the month of the good proposals: here you are the t-shirt in limited edition for the poor orphans, the green collection that does not hurt the planet, the capsule collection against violence… this month I received I don't know how many press communications announcing this or that brand worries about the world's good (and buys a positive image with lots of commercials). Personally, I'd prefer some report about the respect of international agreements about workers' condition in factories, but, you know, you can't always get what you want.
Apart from my critic, here you are three initiatives that look interesting to me:
1)

Vogue.it against the sites pro ana

: Franca Sozzani lauches a campaign against the sites pro anorexia.
The goal

: closing these sites down, who incourage anorexic girls to try to get thinner and thinner, with advices and photos.
How?

You can sign here.
*****

La moda ha il suo calendario, e dopo il tempo delle fashion week, sembra che marzo sia il mese delle buone azioni e della moda etica: ecco la maglietta in edizione limitata per i piccoli orfani, la collezione green che non fa male al pianeta, la capsule collection contro la violenza... questo mese ho ricevuto non so quanti comunicati stampa che annunciano che tale o tale altra marca si preoccupa del bene nel mondo (e si compra un'immagine positiva a grandi colpi di pubblicità). Personalmente preferirei qualche rapporto sul rispetto delle norme internazionali del lavoro nelle fabbriche, ma cosa volete, non si può chiedere la Luna!
Nonostante questa mia critica, ecco tre iniziative che mi sembrano interessanti:
1)
Vogue.it contro i siti pro ana
: Franca Sozzani lancia una campagna di raccolte firme contro i siti pro anoressia.
L'obiettivo
: fare chiudere questi siti, che incoraggiano le ragazze anoressiche a dimagrire sempre di più, con consigli e foto.
Come?
Potete firmare qui
.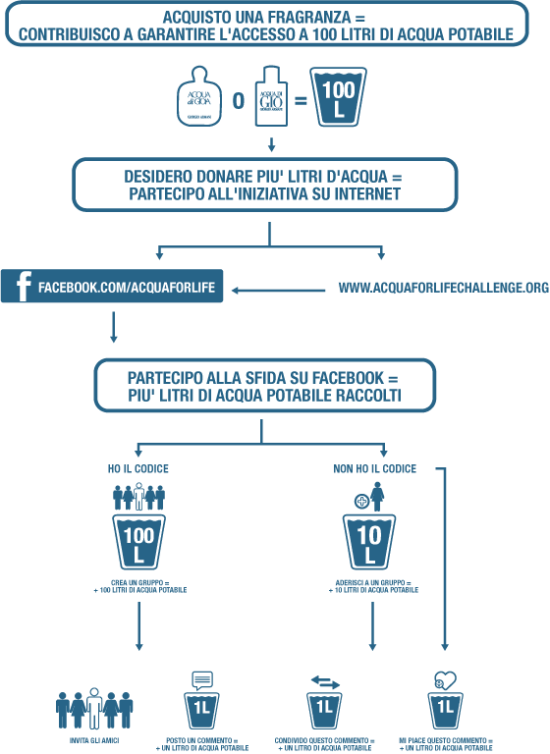 2)

Acqua for life

, by Giorgio Armani with Green Cross International
The goal

: bring millions of liters of drinkable water to people who do not have access to it in Ghana.
How?

For each perfume Acqua di Giò or Acqua di Gioia sold, the company offers 100 liters of water to a Ghanaian community.
To know more about this

: acquaforlifechallenge.org
*****

2)
Acqua for life
, da Giorgio Armani con Green Cross International.
L'obiettivo
: procurare milioni di litri d'acqua potabile a delle persone che non ci hanno accesso in Ghana.
Come?
Ogni profumo Acqua di Giò o Acqua di Gioia venduto offre 100 litri di acqua a un comunità ghanese.
Per saperne di più
:
acquaforlifechallenge.org
3) Carmina Campus created a sachet for Organyc

, among the Ethical Fashion Africa project.
What?

A Carmina Campus sachet made with recycled materials made in Africa, and Organyc, a line of products for feminine personal hygiene made of organic cotton, completely bio-degradable.
The goal

: reducing poverty and developing women's entrepreneurial activity respecting women and environment.
Why do I like it?

Because it isn't a marketing operation, but a definitive choice: the choice of respect of workers and environment.
To know more:
organyc-online.com
and carminacampus.com
*****

3) Carmina Campus ha ideato una bustina per Organyc
, nell'ambito del progetto Ethical Fashion Africa.
Cosa?
Una busta Carmina Campus fatta con dei materiali di recupero 100% made in Africa, e Organyc, una linea di prodotti per l'igiene femminile in cotone biologico, completamente biodegradabile.
L'obiettivo
: ridurre la povertà e sviluppare l'imprenditoria locale nel rispetto delle donne e dell'ambiente.
Perché mi piace?
Perché non è un'operazione marketing, ma una scelta definitiva: quella del rispetto dei lavoratori e dell'ecosistema.
Per saperne di più
:
organyc-online.com
e carminacampus.com
Posted by
L'armadio del delitto