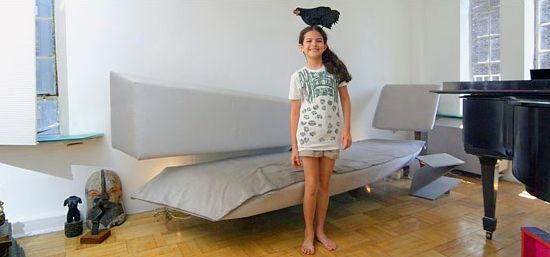 … shouldn't it be the Sunday's cat? No!

The cat is much too popular, much too democratic, well it's not avant-garde enough! Now the pet you must own to be hype is the chicken!

Some months ago, on The Selby, I discovered Annie (first picture), an urban farmer in Brooklyn, with this splendid red dress and a chicken in her arms. In Brooklyn!

Then a few days ago on Closet Visit, I have seen the photo of Claire Cottrell, a young film director, in her Los Angeles garden with a beautiful white chicken (second picture). Oh! I said to myself. In my garden too, from time to time, my neighbour's fuggitive chickens appear! I'm hype without being it on purpose.

The New York Times too talks about "chick pets": in the third picture Isabella with one of the two hens of the family to Manhattan.

Are you willing to adopt a chicken? Nogg proposes an house-egg (hehe) (via Design Sponge), while My Pet Chicken proposes a chicken's garment really pretty. Here is a video that will convince you that the chicken goes fashionable: Tori Spelling too walks around with her chicken!


*****

… non doveva essere il gatto della domenica? Errore!
Il gatto è troppo popolare, troppo democratico, insomma non abbastanza all'avanguardia! Ora l'animale che bisogna avere per essere hype è la gallina!
Qualche mese fa, su
The Selby
, ho scoperto Annie (prima foto), urban farmer a Brooklyn, con questo splendido vestito rosso e una gallina in braccia. A Brooklyn!
Poi poco fa su
Closet Visit
, ho visto la foto di Claire Cottrell, giovane regista, nel suo giardino di Los Angeles con una bella gallina bianca (seconda foto). Oh! Ho pensato. Anche nel mio giardino ogni tanto ci sono le galline fuggitive del mio vicino di casa! Sono hype senza farlo apposta.
Anche su
The New York Times
si parla di "chick pets": nella terza foto Isabella con una delle due galline della famiglia a Manhattan.
Siete tentati di adottare una gallina?
Nogg
propone una casa-uovo (hehe) (via
Design Sponge
), mentre
My Pet Chicken
propone un vestito per gallina molto carino.
Qui anche un video
che vi convincerà che la gallina va di moda: pure Tori Spelling se ne va in giro per la strada con la sua gallina!
Posted by
L'armadio del delitto