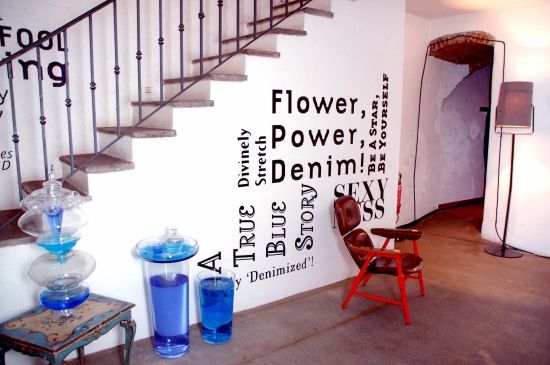 I didn't think about it: creating a perfume thinking about jeans. Usually, when they talk about perfumes, they tell stories that make us dream, stories about Mediterranean garden, summery rain or femmes fatales, while jeans... they are so normal, so every-day, so much what we have on the skin each day!

And this is the genius.

Perfume and jeans, ours two indispensable ones, ours two on-the-skin, ours two timeless, it's incredible how I hadn't thought about it while it's so obvious. And then jeans too tell a story that make us dream, speaking us about Elvis, James Dean, Gainsbourg and Birkin, but also about our beautiful and rebel Kate Moss.


*****
A questo non avevo pensato: creare un profumo pensando a dei jeans. Di solito quando ci parlano di profumi, ci racontano delle storie che fanno sognare, delle storie di giardini mediteranei, di pioggia estiva o di femmes fatales, mentre i jeans! Così normali, così quotidiani… così ciò che abbiamo tutti i giorni sulla pelle!
Ed è questo il genio.
Il profumo ed i jeans, i nostri due indispensabili, i nostri due sulla-pelle, i nostri due intramontabili, è incredibile quanto non ci avessi pensato ed invece è così ovvio. E poi i jeans raccontano anch'essi una storia che fa sognare parlandoci di Elvis, di James Dean, di Gainsbourg e della Birkin, ma anche della nostra Kate Moss bella e ribelle.
It's Diesel that created Fuel for Life Denim Collection: for her, a flowered wooden fragrance (raspberry, petal of jasmine, wood buckets and grey amber: I liked it immediately), and for him a wooden citrus (aromatic citrus, lavender and dry wood). It was the brilliant Donatella Ferrari who had already given us a lesson about perfumes to introduce the new Diesel fragrances (I will keep silent about what she thinks about the charming model of the commercial).
Diesel Fuel for Life Denim Collection will exit in june in perfumeries.
*****
E' stato Diesel a creare
Fuel for Life Denim Collection
: per lei una fragranza floreale boisée (lampone, petalo di gelsomino, legni secchi ed ambra grigia: mi è piaciuto subito), e per lui una fragranza citrus boisé (citrus aromatica, lavanda e legno secco). E' stata la geniale Donatella Ferrari che aveva già tenuto un corso sui profumi a presentarci i neonati di Diesel (tacerò su ciò che pensa del
fascinoso modello
della pubblicità).
Fuel for Life Denim Collection di Diesel
uscirà in giugno in profumeria.