When I wear again a flowered blouse it means that, to me, summer is back. I always need some time to feel it's summer. Nostalgy of school's years, when summer corresponded to holidays? I guess. But I just need to watch Amine Flò's collection with dots, flowers and hat to have again the idea (illusion) that July = far niente. And here is my Amine Flò blouse with Poppies. Amine Flò are two sisters, daughters of a taylor who have learned to sew when they were children and realize the most romantic and light stuff on earth.

This post gives me the will to be on holiday.


*****

Quando indosso di nuovo delle bluse fiorite significa che, per me, è tornata l'estate. Mi serve sempre un po' di tempo per sentirmi in estate. Nostalgia degli anni di liceo, quando estate corrispondeva a vacanze? Senza dubbio. Però mi è bastato guardare le foto della
collezione di Amine Flò
con plumetis, fiori e cappello di paglia per rituffarmi nell'idea (illusione) che luglio = far niente. Ed ecco
la mia blusa con i papaveri di Amine Flò
(l'anagramma di Filomena), un nome dietro il quale ci sono due sorelle, figlie di una sarta che hanno imparato a cucire sin dall'infanzia e realizzano le cose più romantiche e leggere del mondo.
Questo post mi dà voglia di partire in vacanza.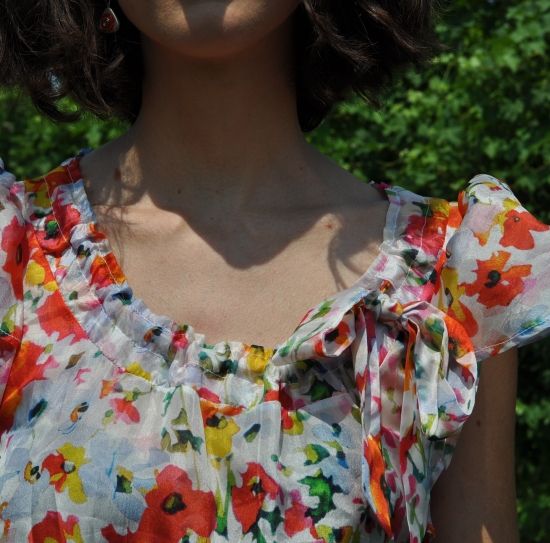 Blouse
Amine Flò
, jeans Comptoir des Cotonniers, swedish clogs from 58m, handmade earrings, vintage bracelet
Posted by
L'armadio del delitto