On-the-beach fashion, it's cheerful but it's a bit frightening. Maybe it's easier to be elegant on the asphalt, all pale? Ermenegildo Zegna made a super chic fashion show with the usual touch, just a bit retrò, on the sand in Milan last june. Before the fashion show, dancers, cocktails and palms.
Let's have a closer look at the outfits.

La moda della spiaggia, è allegro ma fa un po' paura. Forse è più facile essere elegante sull'asfalto, tutto pallido? Sarebbe vero se non ci fosse Ermenegildo Zegna, che ha fatto sfilare degli uomini super chic con il solito tocco appena retrò sulla sabbia a Milano lo scorso giugno. Prima della sfilata, una performance con giochi d'ombra: ballerini, cocktail e palme.
Vediamo i look da più vicino.


Shorts wore in an elegant but relaxed way: next summer the time of fancy and easy-to-wear shoes will come.

Pantaloni corti portati in modo elegante ma rilassato: l'estate prossima sarà l'anno delle scarpe belle e facili da portare.


The "I'm beautiful during week-ends too" outfit, that will never go out of fashion.

Il look di "sono bello anche nel week end", che non passerà mai di moda.


Do you like these shirts? I do, I believe they could be fine in Britain in a windy but sunny day.

Vi piacciono queste maglie? A me sì, le vedo bene indossate in Bretagna un giorno ventoso ma soleggiato.


The suit with a foulard, very Zegna. If you meet a man who knows how to wear it, marry him!

Il completo con foulard, molto Zegna. Se incontrate un uomo che lo sa portare, sposatelo!


The summer trench, wore with simplicity. If were just wondering what collection to start, you can collect trenches of any colour to match them with your pullover!

Il trench estivo, portato con semplicità. Se appunto vi stavate chiedendo quale collezione cominciare, potete collezionare i trench di ogni colore per abbinarli alle vostre maglie!


Mauve suit or sand suit?

Completo malva o completo sabbia?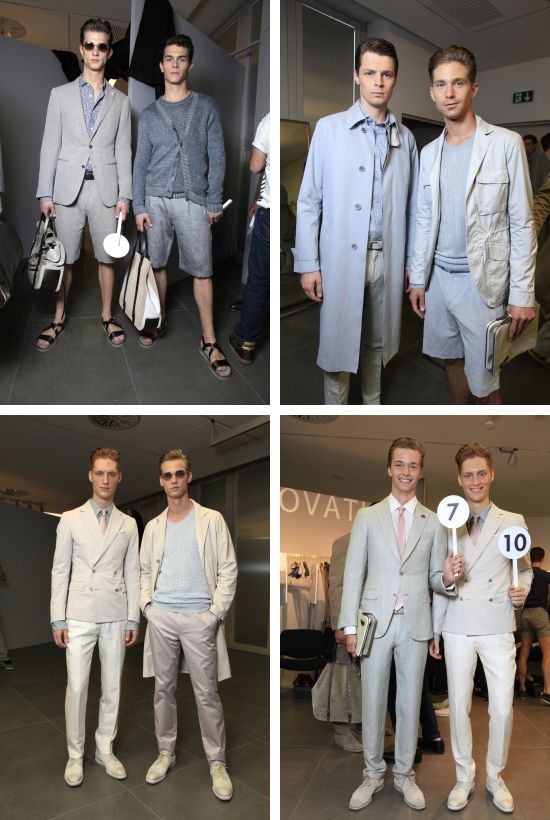 The 2012 must? Going out dressed in pastel with a matching friend. Very photogenic!

Il must del 2012? Andare in giro vestito di pastello con un amico abbinato. Molto fotogenico!

Posted by L'armadio del delitto