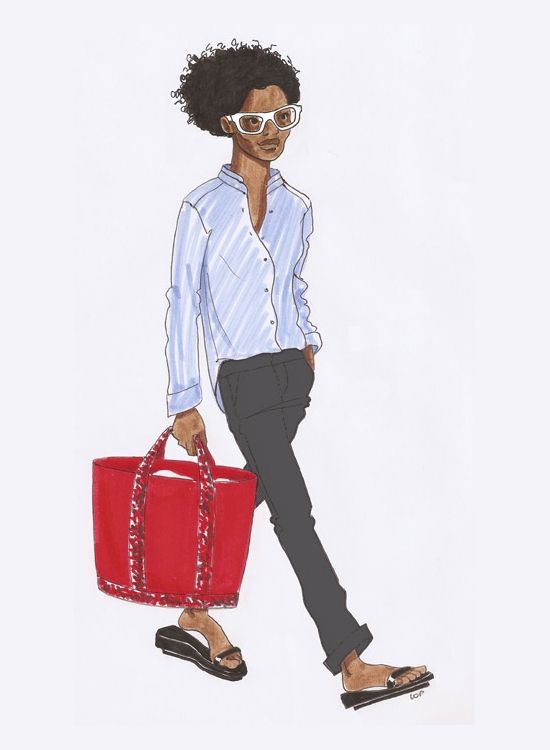 As I announced yesterday, this week we'll talk about French style with five French blogger invited on L'armadio del delitto!
Today Isabelle from Accro de the mode (she writes a blog about men fashion too, Men dpt). Isabelle designs girls (but also old women) whose look impressed her, and she explains with brio every outfit detail, with a lot of tips and useful links.

Come annunciato ieri, questa settimana si parlerà di stile francese con cinque blogger francesi invitate su L'armadio del delitto!
Oggi Isabelle, l'ineguagliabile illustratrice di Accro de la mode (ha anche un blog di moda maschile, Men dpt).
Isabelle disegna le ragazze (ma anche le donne anziane) di cui il look l'ha colpita, e spiega con brio ogni dettaglio della mise, con tanti trucchi e link utili.



Bonjour Isabelle, give me three adjectives to define the French woman.
SOBER in the use of colours
CONVENTIONAL in the choice of her looks
MEASURED in wearing her accessories.

What cannot be missing in a French woman's closet?
An Hermes scarf.

The everyday chic but simple outfit.
Jeans, a marine sweater or a white shirt, beautiful natural skin sandals.

Your personal touch?
A Basque in winter, ethnic necklaces in the summer.

This summer's essential?
Something in plissé soleil or something of lemon yellow.

An error never to make.
To follow fashion blindly.

Your motto?
La mode c'est bien, le style c'est mieux.
Fashion is fine, style is better.

A boutique?
Gago in Aix-en-Provence. A gold mine for every fashionista.

A French shopping Internet site?
frenchtrotter.fr (also for men).


*****
Bonjour Isabelle, dammi tre aggettivi per definire la francese.
SOBRIA nell'uso dei colori
CONVENZIONALE nella scelta dei suoi look
MISURATA nell'indossare i suoi accessori.
Che cosa non deve mancare nell'armadio di una francese?
Un foulard Hermès.
La mise chic ma semplice di tutti i giorni.
Dei jeans, una maglia blu marino o una camicia bianca, dei bei sandali di pelle naturale.
Il tuo tocco personale?
Un basco d'inverno, delle collane etniche d'estate.
L'indispensabile di quest'estate?
Qualcosa in plissé soleil o qualcosa di giallo limone.
Un errore da non fare mai.
Seguire la moda cecamente.
Il tuo motto?
La mode c'est bien, le style c'est mieux.
La moda è bene, lo stile è meglio.
Una boutique?
La boutique Gago a Aix-en-Provence. Una mina di oro per ogni modaiola.
Un sito Internet di shopping francese?
frenchtrotter.fr
(anche per gli uomini).
Merci Isabelle!