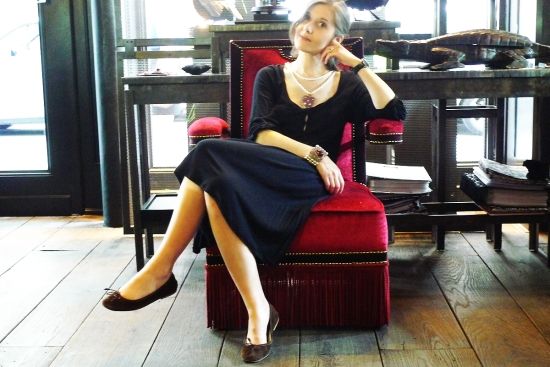 Anne, the unresistible Parisian blogger of Chic&Geek invited today on L'armadio for the French week, loves to talk about a terribly Parisian Paris with poetry and a touch of madness. In her blog, she brings her readers to discover the most beautiful Paris boutiques, so you should expect a lot of advices and good addresses.

Bonjour Anne, give me three adjectives to define the Parisian woman.
Speed (the city's rhythm influences her life)
Unconscious (she doesn't care about crosswalks and thinks that a smile will stop the car… it often works)
Audacious (she takes advantage of the city's anonymity)
Undecided (I add it because of all the answers that follow!)

What cannot be missing in a Parisian woman's closet?
A beautiful umbrella she forgets at home, a men's hat, scarves that she perfumes.

The everyday chic but simple outfit.
Difficult: the Parisian woman has the advantage of being allowed to many things and above all of not having an "everyday outfit".
She goes to a vernissage in jeans and she wears a muslin dress when she makes shopping. Elle décale.
If she has beautiful shoes, everything is alright.
Anyway I'd say that the Parisian woman faces many things everyday, so her combat outfit, which changes according to the season, could be: jeans in which she feels at ease, a used-therefore-comfortable but well held pair of boots, a long enough and not tight sweater/t-shirt/ man shirt, a trench or a black or red jacket, or an ethnic poncho, or, or still… caught at the last moment depending on the mood or on the weather.
I probably should have answered "little black dress", but I'm a Rive Droite Parisian.


*****


Anne, l'irresistibile blogger parigina di
Chic&Geek
invitata oggi su L'armadio per la settimana francese, ama parlare di una Parigi terribilmente parigina con poesia ed un tocco di follia. Nel suo blog, porta le sue lettrici alla scoperta delle boutique più belle di Parigi, e quindi aspettatevi ad una valanga di consigli e di buoni indirizzi!
Bonjour Anne, dammi tre aggettivi per definire la Parigina.
Speed (il ritmo della città influenza la sua vita)
Incosciente (non si cura dei passaggi pedonali e pensa che un sorriso fermerà la macchina... spesso funziona)
Audace (approfitta dell'anonimato della grande città)
Indecisa (lo aggiungo io, perché è mostrato da tutte le risposte che seguono!)
Che cosa non deve mancare nell'armadio della Parigina?
Un bell'ombrello che dimentica a casa, un cappello da uomo, dei foulard che profuma.
La mise chic ma semplice di tutti i giorni.
Difficile: la Parigina ha il vantaggio di potersi permettere molto e soprattutto di non avere di "mise di tutti i giorni".
Va ad un vernissage con i jeans e indossa un vestitino di mussola per fare shopping.
Elle décale
. Posto che abbia delle belle scarpe, tutto va.
Direi comunque che la Parigina affronta molte cose nel quotidiano, così la sua mise di combattimento, che si adatta a seconda della stagione, potrebbe assomigliare a questo: dei jeans nei quali si sente bene, un paio di boots usati quindi comodi ma tenuti bene, una maglia / t-shirt / camicia di uomo abbastanza lunga e non stretta, un trench o una giacca nera o un giubbotto rosso, o un poncho etnico, oppure, o ancora... acchiappato all'ultimo momento a seconda dell'umore o del meteo.
Avrei probabilmente dovuto rispondere "vestitino nero", ma sono una Parigina Rive Droite.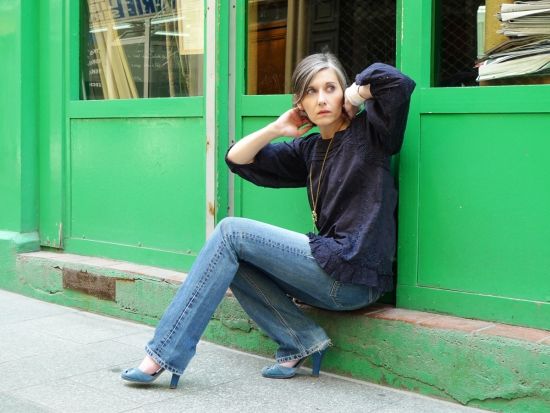 Your personal touch?
I rarely have things from the last collection therefore I'm not fashionable. I prefer vintage, or worse, the delay of one or two years.
But vintage or not, I have always a touch of madness, something of unlikely… of bizarre. Most of the times this means peculiar shoes, but sometimes a sun umbrella or a cowboy hat, large vintage sunglasses (I'm allergic to the sun). Obviously never all this at the same time!
Lately I have found again a large silk kimono chocolate colored with rose flowers, so light, that I wear it as a "summery coat", opened to the wind, over any cloth. It runs behind of me. I've been owning it from more than ten years and I do love it.
I'm faithful… in music, in cinema, literature or also in fashion. The first-time excitement exists, but for me it is less important than the familiar aspect. I appreciate more the things I know, I have domesticated and appropriated them.
Sometimes you feel lost in Paris, and perhaps this is my way to find again myself, to reassure to me. Often a jewel is enough.
This summer's essential?
A perfume: the Parisian woman is perfumed. And a beautiful fan in the bag.
I'll say you in September what has been my summer's essential. I bet on a great vintage Hermès hat I found a short time ago. My winter's essential was an immense cashmere scarf with Ava Gardner "Delicious Freaks" print I used nearly every day.
A mistake never to make.
To be afraid of making some mistakes.
Believing that we never make any mistakes.
In the same way there are happy hazards, there are delicious mistakes too (other ones are catastrophic, but we always recover).
Your motto?
I don't have any. It's a pity though, I'll find one.
But I often repeat to myself I have to be nice with people, every people. In fact, it is egoistic: I'd like to be appreciated. Then I'd quote Beethoven: "I do not recognize other sign of superiority than goodness".
*****
Il tuo tocco personale?
Ho raramente cose dell'ultima collezione quindi non sono alla moda. Preferisco il vintage, o peggio, il ritardo di uno o due anni. Ma vintage o meno, ho sempre un tocco di follia, qualcosa di improbabile... di bizzarro. La maggior parte del tempo sono delle scarpe che scintillano, stupiscono, ma a volte un ombrellino da sole o un cappello da cowboy di paglia, dei grossi occhiali vintage (sono allergica al sole). Mai tutto questo alla volta ovviamente!
Ultimamente ho ritrovato un grande kimono di seta color cioccolato fiorito rosa pallido, molto leggero, che indosso come "cappotto" estivo, aperto al vento, sopra qualsiasi cosa. Corre dietro di me. Ce l'ho da più di dieci anni e lo amo d'amore.
Sono fedele... in musica, come in cinema, in letteratura o anche in moda. L'eccitazione della prima volta esiste, ma per me è meno importante dell'aspetto familiare. Apprezzo ancora di più le cose che conosco, le ho addomesticate, me le sono appropriate. A volte ci si sente persi in Parigi, e forse è il mio modo di ritrovarmi, rassicurarmi. Spesso basta un gioiello.
L'indispensabile di quest'estate?
La scia di un profumo: la Parigina è profumata. E un bel ventaglio nella borsa.
Ti dirò a settembre quale sarà stato il mio indispensabile di quest'estate. Scommetto su un grande cappello a falda larga di camoscio Hermès vintage scovato poco fa.
L'indispensabile dello scorso inverno era un immenso foulard di cashmire stampato Ava Gardner "Delicious Freaks", che ho usato quasi tutti i giorni.
Un errore da non fare mai.
Avere paura di farne.
Credere che non ne facciamo mai.
Così come ci sono dei felici azzardi, ci sono dei deliziosi errori (altri catastrofici, ma ci riprendiamo sempre).
Il tuo motto?
Non ne ho. Peccato d'altronde, vorrà dire che me ne troverò uno.
Ma mi ripeto spesso di essere gentile, amabile con la gente, con tutta la gente. In realtà è una cosa egoista: vorrei che mi volessero bene. Allora citerei Beethoven: "non riconosco altro segno di superiorità della bontà".
A boutique in Paris?
Chanel, rue Cambon, not to make shopping, but to err, like in a free museum.
Or all the Palais Royal ones, as if this place were the only Parisian store I can stand: garden in center and, under the arcades, corners to discover.
In bonus, the small boutique of Rupert Sanderson, secret, hanging from above like a nest.
A French shopping website?
I have to be sincere, I rarely buy things at the starting price. I like online shopping, but also the old collections at lowered prices or vintage.
I wake up early...
Private sales sites, bloggers or friends' sales, and my favourite e-shopping site, yoox, but it's Italian! Moreover my better secret bon plan is Josep Font's e-boutique, which sells his prototypes and its vintage dividing its prices by three… but it's Spanish!
However, apart from the price, to make a Parisian gift, Colette has a great selection, even if snob people snob it (Karl Lagerfeld continuous to go to Colette… so do I).
The

bon plan

are the sales before the sales with all at -50%.
But at the opposite, Yaya Store for example has a little online store that renders well that so peculiar atmosphere of the bohème boutique of rue Montmartre.
For the men, I just discovered Balibaris which is really elegant, little but so chic selection, and not too expensive.
I bought a tie for my husband, happy surprise!
Today the majority of the French brands has online stores or they are preparing it, from Lanvin to Paul& Joe, passing for Vanessa Bruno, Kenzo, Hermès, Lacoste, Rykiel, Loft design by, Hector et Lola or Manoush.
The multibrands like Sarenza or Monshowroom which sponsor a lot of bloggers have a great choice, but they don't completely correspond to the Parisian spirit…
*****
Una boutique a Parigi?
Chanel, rue Cambon, non per farci shopping, ma per errare come in un museo gratuito.
Oppure tutte quelle del Palais Royal, come se questo posto fosse il solo negozio parigino che sopporto: giardino in centro e, sotto i portici, dei corner da scoprire. In bonus, la piccola boutique di Rupert Sanderson, segreta, agganciata sopra, come un nido.
Un sito Internet di shopping francese?
Devo essere sincera, mi capita raramente di comprare delle cose al prezzo di partenza. Mi piace lo shopping online, ma anche le vecchie collezioni a prezzi ribassati o il vintage. Mi alzo presto...
Fra i siti di vendite private, le vendite di usato delle blogger o delle amiche, e il mio sito di eshopping preferito,
yoox
, che però è italiano, sono messa male! Inoltre il mio migliore bon plan segreto è la e-boutique di
Josep Font
che rivende i suoi prototipi e il suo vintage dividendo i suoi prezzi per tre... ma è spagnolo!
Comunque, fuori dal prezzo, per fare un regalo che sia tipicamente parigino, la boutique di
Colette
ha una grande selezione molto accurata, anche se gli snob la snobbano (Karl Lagerfeld continua ad andarci... anch'io).
Il
bon plan
, sono i saldi appena prima dei saldi con tutto a -50%.
Ma all'opposto,
Yaya Store
per esempio ha un piccolo sito di vendita online che rende bene l'atmosfera così tanto particolare della
boutique bohème
della rue Montmartre.
Per gli uomini, ho appena scoperto
Balibaris
che è davvero elegante, selezione piccola ma molto chic e non eccessivamente cara. Ci ho ordinato una cravatta per mio marito, felice sorpresa!
Oggi la maggior parte delle marche francesi hanno dei siti di vendita online o lo stanno preparando, da
Lanvin
a
Paul&Joe
, passando per
Vanessa Bruno
,
Kenzo
,
Hermès
,
Lacoste
,
Rykiel
,
Loft design by
,
Hector et Lola
o
Manoush
.
I multimarche come
Sarenza
o
Monshowroom
che sponsorizzano un certo numero di blogger hanno una bella scelta, ma non corrispondono del tutto allo spirito parigino...