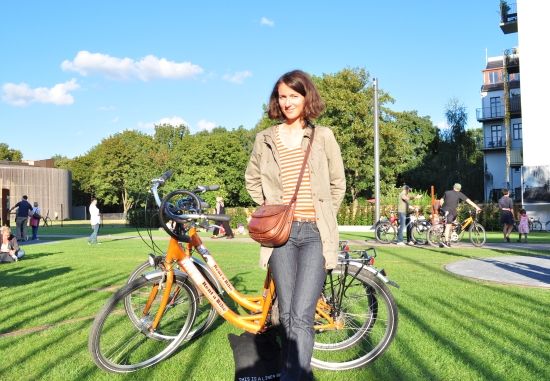 They told me "you'll see! Going to Berlin is like going to New York in the Seventies, you'll like it!" In just five days I could realize how it was true. I will not describe you the city, but I'm sure you'll be happy to hear talking about shopping, aren't you? Berlin girls have definitely a fantastic style: I have never seen so many well-dressed girls (never too much though: you can see they have good taste, but you can also see they have other to do than to think about clothes all the time). Besides you gave me lots of advices before I left, and I must thank you!
In fact I dedicated a short time to shopping, but I roamed in Berlin by bike as Elena advised me, that allowed me to notice many things on the road.

Mi avevano detto vedrai! Andare a Berlino oggi è come andare a New York negli anni 70, ti piacerà! In soli cinque giorni ho potuto realizzare a che punto era vero. Non vi descriverò la città, ma sono sicura che sarete contenti di sentire parlare di shopping, no? D'altronde le ragazze berlinesi hanno uno stile fantastico: non ho mai visto così tante ragazze vestite bene (mai troppo bene però: si vede che hanno buon gusto, ma si vede pure che hanno altro da fare che di pensare ai vestiti in continuo). Inoltre mi avevate dato un sacco di consigli prima che parta e vi devo ringraziare!
In realtà ho consacrato poco tempo allo shopping, ma ho girato Berlino a bicicletta come mi aveva consigliato Elena, il che mi ha permesso di notare molte cose per la strada.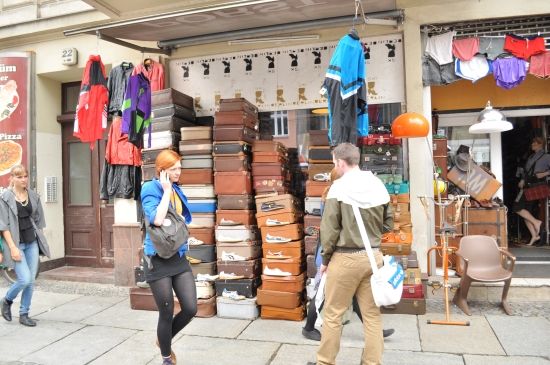 Hiii, mountains of old leather suitcases in front of a vintage shop in Prenzlauer Berg! Marvelous district, as Irene and Amanda think, or a district that lost his soul becoming hype as the Guide du Routard and Cuor di Leone – a reader who used to live there when it still was "alternative" - say? Sure enough, it's easily seen the district is too bobo to be authentic, you meet too many beautiful-trendy-perfect thirty-years-old people. Anyway I loved the shops and I did not come back empty-handed!

Hiii delle montagne di vecchie valige di pelle davanti ad una boutique di vintage di Prenzlauer Berg! Quartiere meraviglioso come lo pensano Irene di Mix and Match ed Amanda di Amylastilosa, oppure quartiere che ha perso la sua anima diventando hype come lo giudicano Le Guide du Routard e Cuor di Leone, una lettrice che ci è vissuta all'epoca in cui era ancora veramente alternativo? Di sicuro si vede che il quartiere è troppo bobo per essere autentico, si incrociano troppi trentenni belli-trendy-perfetti. Invece i negozi mi sono piaciuti e non sono tornata a mani vuote!


You can find second hand shops (not vintage ones) anywhere and of any kind, ugly ones, beautiful ones, luxury ones, many recent things (sometimes items of the current collection). I bought a Closed little dress at Sommerladen (linienstraße 153), a boutique in the Mitte district where there were only beautiful things in perfect conditions, with brands like Marni, Dries Van Noten, Jil Sander, Sessùn...
In Mitte, Giorgia also suggested me the Hackesche Hoefe.

Si trovano negozi di second hand (non vintage) dovunque e di ogni genere, dei brutti, dei belli, dei lussuosi, molte cose recenti (a volte delle cose della collezione in corso). Ho comprato un abitino Closed a Sommerladen (linienstraße 153), una boutique del quartiere di Mitte dove c'erano solo cose belle e in perfetto stato, con marche come Marni, Dries Van Noten, Jil Sander, Sessùn...
A Mitte, Giorgia mi aveva anche consigliato gli Hackesche Hoefe.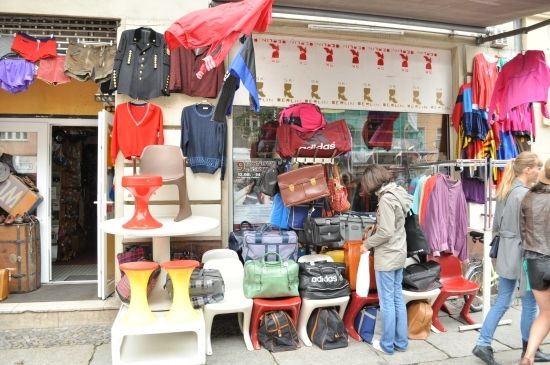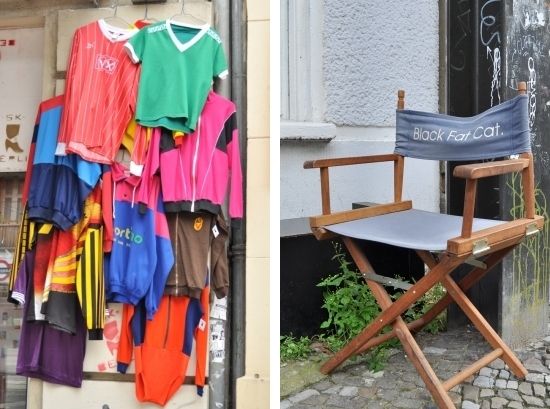 For what concerns vintage, many 80s things, tennis shoes and sports items, then a whole lot of eccentric stuff (as a nice marinière swimming suit from the 30s).
Giovanna suggests Kreuzberg for vintage (I only went there at night), while La Bottega di Zanzu suggests the Mauerpark market.

Per quanto riguarda il vintage, tante cose anni 80, scarpe da tennis e articoli sportivi dell'epoca, e poi un bel po' di cose eccentriche (un costume da bagno-marinière anni 30 per esempio). Invece ho visto pochi abitini retrò carini (mentre nelle boutique di cose nuove ce ne sono un sacco).
Giovanna consiglia Kreuzberg per il vintage (ci sono andata solo di notte), mentre La Bottega di Zanzu consiglia il mercato di Mauerpark.


There's retro in the metro!
For what concerns more classic shopping, I noticed several fine warm pullovers (yes, it was cool in Berlin) and I bought a fa-bu-lous scarf at KaDeWe, the mall Verdementa talked me about.
BaiLing told me Scheunenviertel is a wonderful sequence of shops of any kind: young designers, vintage, famous brands...
Elena suggested Trippen's shoes, and Erica would rob Weekday MTWWFSS.

Anche nella metro c'è del retrò!
Per quanto riguarda lo shopping più classico, ho notato molti bei maglioni caldi (eh sì faceva fresco a Berlino) e ho comprato una sciarpa ma-gni-fi-ca a KaDeWe, i grandi magazzini di cui mi aveva parlato Verdementa.
BaiLing invece mi aveva scritto che Scheunenviertel è un trionfo di negozi di ogni genere: giovani designer, vintage, marchi famosi...
Elena consiglia Trippen per le scarpe, e Erica svaligerebbe Weekday MTWTFSS.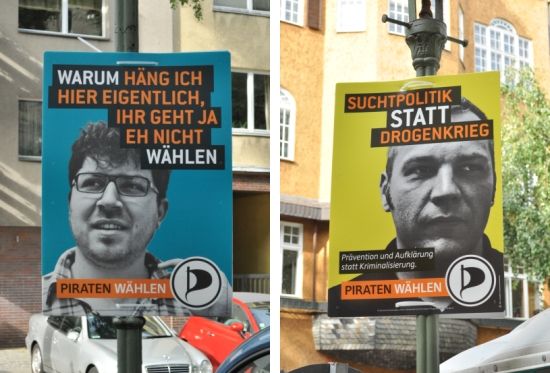 Berlin was in the middle of a municipal election, and there's the pirates' party too!

Berlino era in piena campagna per le elezioni municipali, e si presenta anche il partito dei pirati!

Posted by L'armadio del delitto