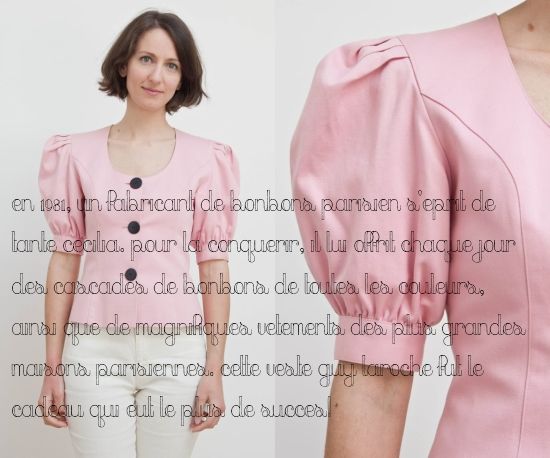 Photo by Sara Cimino

In 1981 a Parisian candies manufacturer fell in love with my aunt. To conquer her, besides fountains of delicious colored candies, mountains of flavoured sugars and fruit lollipops, he covered her with clothes from the grand Parisian maisons.
Ah! As you know, every cloth that my aunt she gave me remembers me a story, and I like to tell you about them here or on my blog!
So when I read about the contest organized by the Italian Magazine Io Donna "tell about your favourite cloth", I thought oh! I have a lot of stories to tell! And I send the story about the vintage skirt and top from Gucci. Et voilà, I am at the page number 60!
*****

Nel 81, il capo di una fabbrica di caramelle di Parigi si innamorò di mia zia Cecilia. Per conquistarla, oltre a regalarle fontane di caramelle colorate, montagne di zuccherini d'orzo, lecca lecca alla frutta, le regalò numerosi capi delle più grandi case parigine. Questi vestiti sembravano anche loro usciti dalla fabbrica di caramelle, erano di color rosa, oppure a fiori, e sembravano zuccherati!
Ah! Come ben sapete, ogni vestito di zia Cecilia mi ricorda una storia, e mi diverto a raccontarle
qui
o anche su questo blog!
Così quando ho saputo del concorso organizzato da Io Donna "racconta la storia del tuo capo del cuore", ho pensato oh! ne ho di storie da raccontare! Ed ho mandato la storia della gonna e maglia a pois Gucci vintage. Et voilà, è alla pagina 60!
Voglia di mandare anche voi una foto del vostro capo preferito a Io Donna e raccontare la sua storia? Basta scrivere a lettere.iodonna@rcs.it
Posted by
L'armadio del delitto