Look at these paper child dresses, so light, adorable with their collar, their buttons and their bow. Origami-dresses that I'd like to hang in my bedroom to... loose myself in Paris or admire a port from some century ago?

Guardate questi vestitini di carta da bambina, così leggeri, adorabili con il loro colletto, i loro bottoni e il loro fiocco. Degli abiti origami che appenderei volentieri in camera per... perdermi nelle strade parigine o ammirare un porto di qualche secolo fa?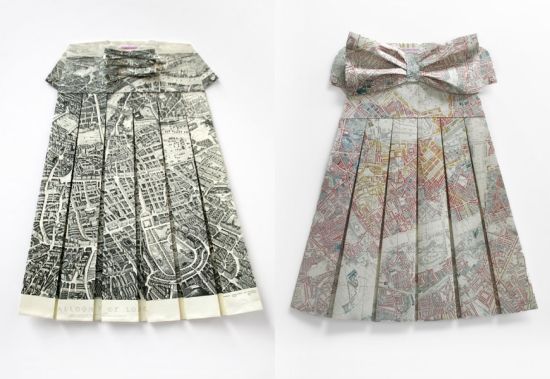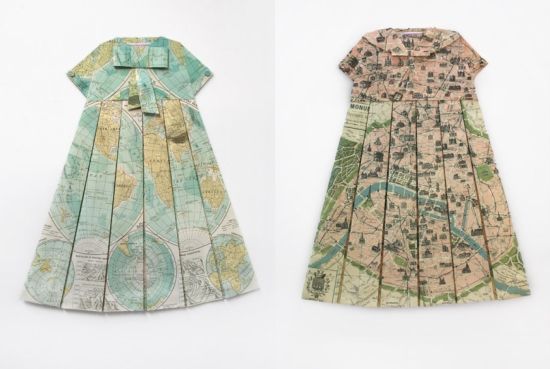 It's not by chance if Elisabeth Lecourt chose these places' maps to make dresses: they are places she loved and about which she's often nostalgic (like me, she is a French girl who lives in another country). Autobiographical dresses whose names are Coccinelle Demoiselle, Coquillage et Crustacés or other French songs.

And then these town-dresses talk about the woman identity in general: woman houses' soul, strong like a brick, vulnerable like paper. It's tender, ironic, beautiful, and it's in Turin until the November 23th at NOPX - limitededitionpics in via saluzzo 30.


*****

Non è un caso se
Elisabeth Lecourt
ha scelto le mappe di questi luoghi per farne dei vestiti: sono i posti che ha amato e dei quali spesso è nostalgica (come me è una francese espatriata). Degli abiti autobiografici battezzati
Coccinelle Demoiselle
,
Coquillage et Crustacés
o altre canzoni e filastrocche francesi.
E poi questi vestiti-città parlano anche dell'identità della donna in generale: donna anima della casa, forte come il mattone e vulnerabile come la carta. E' tenero, ironico, bello ed è a Torino fino al 23 novembre a
NOPX - limitededitionpics
in via saluzzo 30.
Posted by
L'armadio del delitto