In my Northern family today we celebrate Santa Klaus, who enters the houses through the fireplace with his donkey every December 6th and gives some small gifts. Since Santa Klaus had to make a detour to Italy just for me, he took the opportunity to leave a little gift to you! It is kind, isn't it? He also has good taste, and chose three jewels from La Bottega di Zanzu, which will be won by three lucky people!

Nella mia famiglia nordica oggi festeggiamo Santa Klaus, che ogni 6 dicembre entra nelle case dal camino con il suo asino e porta qualche piccolo regalo. E siccome Santa Klaus ha dovuto fare una deviazione per l'Italia apposta per me, ne ha approfittato per lasciare dei regali anche a voi! Non è gentilissimo? Ha pure buon gusto, e ha scelto tre gioielli de La Bottega di Zanzu, che verrano vinti da tre persone fortunate!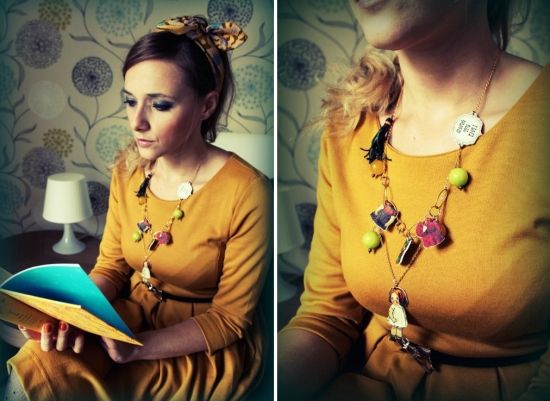 First prize "I'm a fashion victim necklace", with adorable little dolls.

Primo premio "I'm a fashion victim necklace", dove ritroverete le bamboline del gioco del "taglia e incolla" di abitini di carta.


Second prize, the "sweet bird earrings", made with a sparrow (La Bottega di Zanzu's leitmotif).

Secondo premio, gli "sweet bird earrings", realizzati con un passerotto (leit motiv de La Bottega di Zanzu) in vera madreperla, e pendente in pietra dura.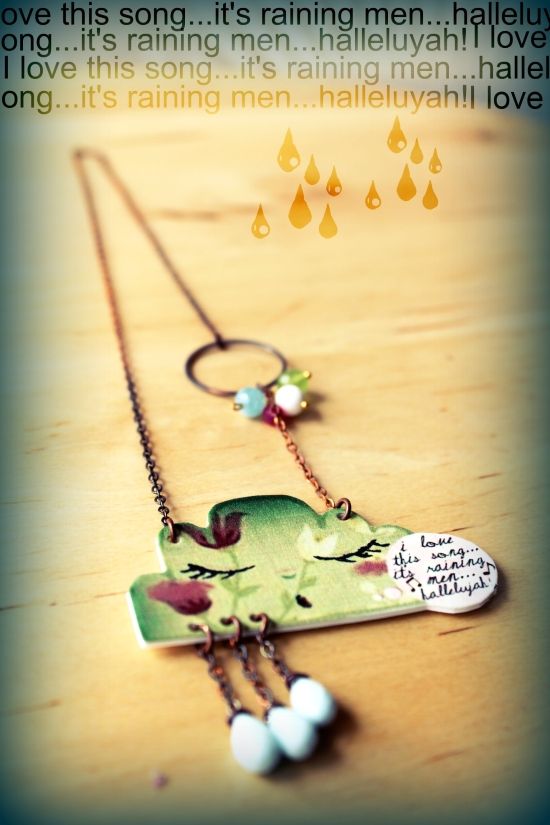 Third prize, "It's raining men ... Halleluja!" necklace-cloud with a very winter theme!

How to participate? Simple as usual:

- just follow my blog (on Bloglovin, Google Friend Connect or Facebook)
- follow La Bottega di Zanzu on her blog with Google Friend Connect and Facebook
- Leave a comment to this post

- Want to leave more comments? Just share the giveaway on Twitter, Facebook or your blog!

The giveaway is open until Tuesday, December 13 at 22:00
The three winners will be chosen with Random.org.

Bonne chance et vive Saint Nicolas!


*****
Terzo premio
, " It's raining men...halleluja!", collana-nuvola dal tema molto invernale!
Come partecipare?
Semplice come al solito:
-seguite L'armadio (a scelta su
Bloglovin
, Google Friend Connect oppure
Facebook
)
- seguite La Bottega di Zanzu
sul suo blog
con Google Friend Connect e su
Facebook
- lasciate un commento a questo post
- voglia di lasciare fino a quattro commenti? Basta condividere il giveaway su Twitter, Facebook o sul vostro blog!
Il giveaway è aperto fino a martedì 13 dicembre alle 22.00
I tre vincitori saranno scelti con Random.org.
Bonne chance et vive Saint Nicolas!