Do you remember Greta Pigatto? You liked her t-shirt a lot (So did I).
Today, first giveaway of the year: the winner will choose between Pola hat or Garbo jacket.

Ricordate Greta Pigatto? Vi era piaciuta molto (anche a me).
Oggi primo giveaway dell'anno con due sue creazioni, con un premio a scelta fra il cappellino Pola oppure la giacchina Garbo.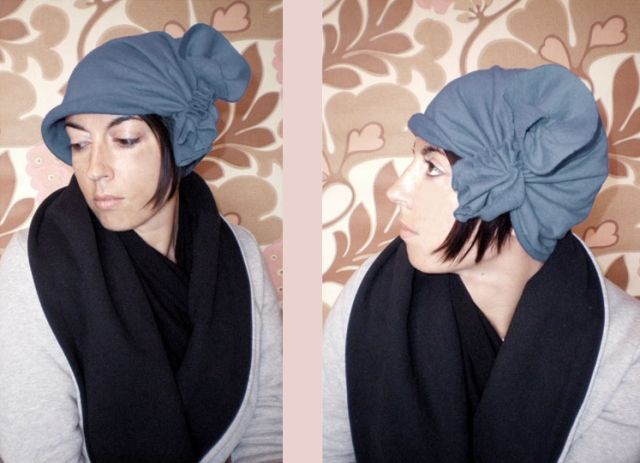 Here you are Pola hat, so Charleston dancer in the 20's, in plush, available in camel, purple, dark blue-green, orange, mid blue, brown. Made in Italy.

Ecco il cappellino Pola, che fa molto ballerina di Charleston degli anni 20, in felpa diponibile in cammello, viola, petrolio, arancio, carta da zucchero, marrone. Fatto in Italia.


And here's the Garbo jacket in plush, completely unlined. At the back, a hand-applied bow, and an iridescent sequin iside to hide the knot of the bow. Made in Italy. Sizes s - m - l

How to participate?

1) If you use facebook, click "like" on her page and share in your account. Else you can subscribe to her newsletter;

2) Follow me as you prefer, Bloglovin or Google Friends Connect;

3) Leave a comment telling which collection of Greta Pigatto you prefer.

Want to leave more comments? Just share the giveaway on Twitter, Facebook or your blog!

The giveaway is open until Thursday, January 19, at 11AM. The winner can choose between the hat and the jacket.

Meanwhile, until January 14, Greta Garbo Pigatto offers the look jacket Garbo + minidress Baloons for 155 euros, Amanda clutch and shipping are free. More informations here.


*****

Ed ecco la
giacchina Garbo
dall'eleganza maschile, in felpa, completamente sfoderata, con revers a scialle e maniche a sbuffo. Sul dietro, un fiocchettino in raso, applicato a mano, e all'interno una pailette iridata per nascondere il nodo del fiocco. Prodotta in Italia, dal tessuto alla confezione.
Taglie diponibili s – m – l
Come partecipare?
1) se usate facebook,
cliccate "mi piace" sulla pagina di Greta Pigatto
e condividetela sulla votra bacheca. In alternativa vi potete iscrivere alla sua
newsletter
;
2) seguitemi a scelta su
Bloglovin
o Google Friends Connect;
3) Lasciate un commento indicando
che collezione di Greta Pigatto
vi piace di più.
Voglia di lasciare fino a 4 commenti? Condividete questo giveaway su Facebook, Twitter o il vostro blog!
Il giveaway è aperto fino a giovedì 19 gennaio, ore 11.00. Il vincitore potrà scegliere fra il cappellino Pola e la Giacchina Garbo.
Intanto, fino al 14 gennaio, Greta Pigatto propone il look giacchina Garbo + minidress Baloons a soli 155 euro, spese di spedizioni e pochette Amanda in omaggio.
Maggiori informazioni qui
.