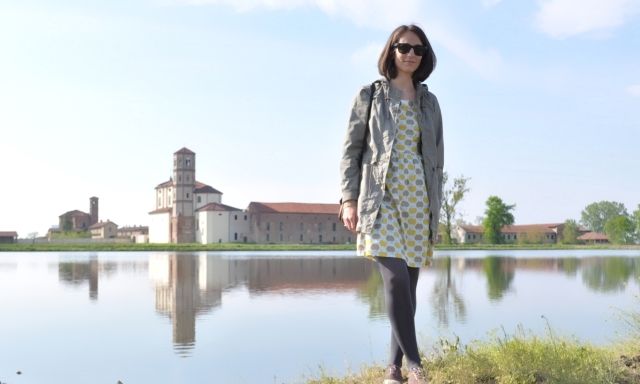 .
After the success of floral, cats and birds prints, here are the tasteful prints! Here is my Lazzari apple dress: it's nice to say "ah today I'll put my apples dress", right? It reminds me of my strawberries dress I had in the 1980s. I would have taken more pictures of the apples if I had known that I would made a post, and I would have also proposed a less rustic outfit, but you know, I was doing tourism at the abbey of Lucedio in the province of Vercelli (Piedmont, Italy), in the middle of rice fields (beautiful place!)
Will of tasteful dresses ? On Asos, I found some dresses with ice cream, cupcake, fruits!
*****
Dopo il successo delle stampe con fiori, gatti, uccelli e tutto ciò che volete, ecco le stampe golose! Qui il mio vestito con mele di
Lazzari
: è carino dire "ah oggi metterò il mio vestito con mele", no? Mi ricorda un mio abitino con fragole in taglia 4 anni negli anni 80. Avrei fotografato le mele come si deve se avessi saputo che ne avrei fatto un post, e vi avrei anche proposto un abbinamento un po' meno rustico, ma cosa volete, stavo facendo turismo all'abbazia di Lucedio in provincia di Vercelli, in mezzo alle risaie (posto bellissimo!)
Voglia di vestiti golosi? Su Asos, ho trovato dei
vestiti
con gelati, cupcake, frutta: gnam!