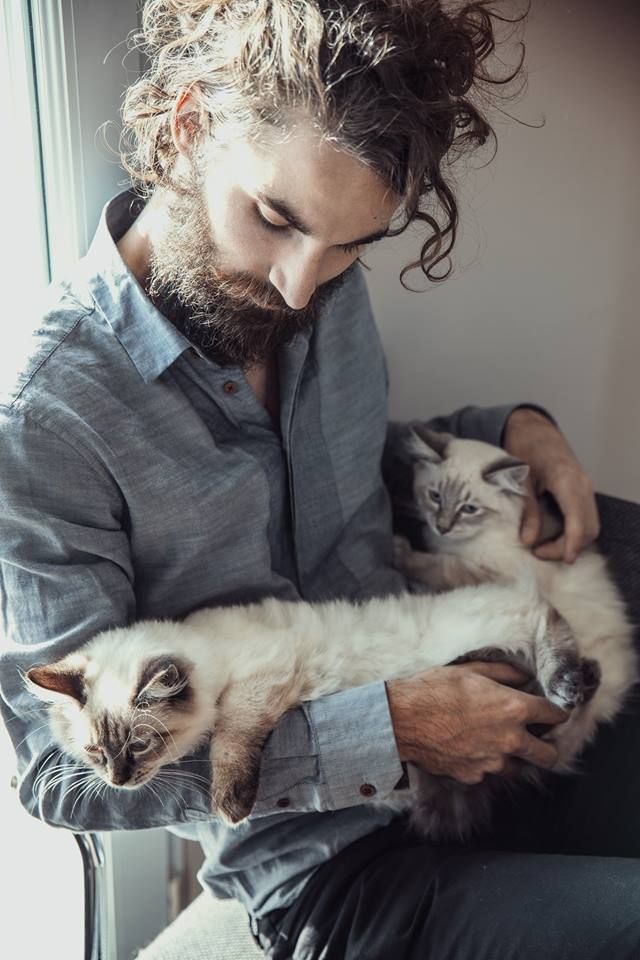 Fa freddo, siamo a fine novembre, voglia di rimanere al caldo con un barbuto e un gatto (quattro per quanto mi riguarda) (quattro gatti, non quattro barbuti eh !) Bene bene, ecco a voi un sacco di gatti e quasi lo stesso numero di barbuti, presi sul sito
Boys with beards with cats
, un titolo promettente, vero? Beh non cliccate sul link con troppo entusiasmo: il sito è brutto (eh sì, vi ho trovato nove belle foto su circa mille pubblicate, le altre sono spesso sgranate e fatte in tuta sul divano). Non ci lamentiamo, questi nove barbuti e i loro dieci gatti già non sono male per un 27 novembre triste e freddo! Miao!
Il fait froid, on est fin novembre, envie de rester au chaud avec un barbu et un chat (quatre en ce qui me concerne) (quatre chats, pas quatre barbus, hein !) Eh bien je vous refile un tas de chats et presque autant de barbus, pris sur le site Boys with beards with cats, un titre prometteur n'est-ce pas. Bon, ne cliquez pas sur le lien avec trop d'entrain : le site est moche (ben oui, je vous ai trouvé neuf jolies photos sur environ mille publiées, les autres sont pour la plupart de mauvaise qualité prises en survêt affalés sous un plaid).

Ne nous plaignons pas, ces neufs barbus et leurs dix chats sont déjà pas mal pour un 27 novembre triste et froid ! Miaou !